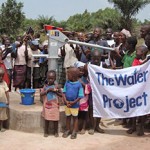 I came across a video on the troubles faced by certain countries on providing
clean water for families, and decided to donate, in the process there was an option to start a fundraise, which made me think that, it will potentially raise more than what i would be able to donate. Please help share this page, donate, either or both. Thank you. Edgar Cruz, AKA Vertygo.
---
Did you know nearly 1 billion people don't have safe water to drink?
Together, we can change that. Let's fund a new source of drinking water for those who suffer needlessly without it!
Our gifts will be used to construct or rehabilitate a water project, like a well or sand dam, in Africa. We'll see pictures, GPS coordinates, and updates as they come in from the actual water project we fund so we can celebrate the results along with the community we help.