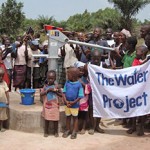 We, and most Americans, take clean water completely for granted. We let the tap water run, throw away half-filled bottles, and waste this resource in many, many ways every day.
Meanwhile, on the other side of the earth we all share, women and girls spend much of their day -- every day -- retrieving filthy water and makes them and their families sick. Please read about 
The Water Project's amazing work
, be inspired by their 
videos
, and join us in making a very small sacrifice to support this project.
---
Did you know nearly 1 billion people don't have safe water to drink?
Together, we can change that. Let's fund a new source of drinking water for those who suffer needlessly without it!
Our gifts will be used to construct or rehabilitate a water project, like a well or sand dam, in Africa. We'll see pictures, GPS coordinates, and updates as they come in from the actual water project we fund so we can celebrate the results along with the community we help.