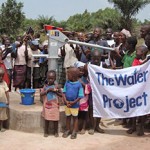 We are a class of 24 Grade Two and Three students who want to make a difference!
We have been learning all about water and the affect it has on our health and well-being. Whilst researching, we learnt that not everyone had the access to clean water that we are fortunate enough to have and we want to do something about it. 
We were shocked to learn that many girls our age do not get to go to school because they have to collect water for their families, often putting themselves in danger. Please help us make a difference by donating to our page and help improve the health and well-being of those less fortunate than us. Grade 2/3S
---
Did you know nearly 1 billion people don't have safe water to drink?
Together, we can change that. Let's fund a new source of drinking water for those who suffer needlessly without it!
Our gifts will be used to construct or rehabilitate a water project, like a well or sand dam, in Africa. We'll see pictures, GPS coordinates, and updates as they come in from the actual water project we fund so we can celebrate the results along with the community we help.