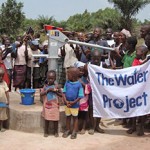 Baron will turn 5 years old on September 5th! When he grows up, Baron wants to "fly in a space rocket to the other side of the world and take clean food and water to people who don't have any food and have to drink dirty water from mud puddles." He also wants to build churches there. Until the day he is old enough to fulfill his dream, Baron wants to raise money to build a well so that these children and adults will have clean water. In lieu of birthday gifts, Baron is asking that you make a donation to help fund this well and clean water. Your donations are greatly appreciated. Thanks for making this a birthday Baron will never forget and helping to provide clean water for those in need!
---
Did you know nearly 1 billion people don't have safe water to drink?
Together, we can change that. Let's fund a new source of drinking water for those who suffer needlessly without it!
Our gifts will be used to construct or rehabilitate a water project, like a well or sand dam, in Africa. We'll see pictures, GPS coordinates, and updates as they come in from the actual water project we fund so we can celebrate the results along with the community we help.