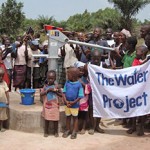 After our Walk About at school, and finding out that children have to walk miles to get dirty water, my six and seven year old students were "mad, sad, disgusted, feel bad for them" and decided they wanted to "put clean water on their porch" and "fly them here and give them our water" and "send them bottled water." This inspired them to get involved and actually DO something about it.
We have opened this fundraiser to all of the first graders at MEC. Let's see how much we can raise by Thanksgiving!!!
---
Did you know nearly 1 billion people don't have safe water to drink?
Together, we can change that. Let's fund a new source of drinking water for those who suffer needlessly without it!
Our gifts will be used to construct or rehabilitate a water project, like a well or sand dam, in Africa. We'll see pictures, GPS coordinates, and updates as they come in from the actual water project we fund so we can celebrate the results along with the community we help.