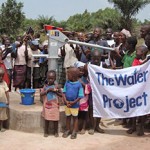 Hello fellow people.
I am a year nine student at the Springfield Anglican College and for my Geography assignment my group and I need to change the world. So my group and I have chosen to do water pollution because we think that everyone around the world should have clean water like we do in Australia.
Nearly 5,000 kids in africa die or get sick every single day due to dirty drinking water. This is why my groups target is to raise $5,000 so we are able to build a well in Africa so we can reduce the number of deaths each day.
Please help us with the road to clean water and to achieve our goals. 
---
Did you know nearly 1 billion people don't have safe water to drink?
Together, we can change that. Let's fund a new source of drinking water for those who suffer needlessly without it!
Our gifts will be used to construct or rehabilitate a water project, like a well or sand dam, in Africa. We'll see pictures, GPS coordinates, and updates as they come in from the actual water project we fund so we can celebrate the results along with the community we help.