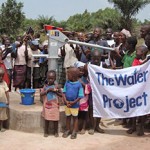 Did you know that 1 out of every 9 people in the world do not have dependable access to clean water? Access to clean water is essential!
Clean water creates opportunity in communities by reducing death and disease, promoting gender equality and increasing school attendance.
Our team, consisting of Madison Area families, is working to raise $15,000 in 2016 so that The Water Project can build a new well capable of providing clean water to as many as 500 people.
Thank you for your support in helping us reach our goal of having Madison families build a well!
---
Did you know nearly 1 billion people don't have safe water to drink?
Together, we can change that. Let's fund a new source of drinking water for those who suffer needlessly without it!
Our gifts will be used to construct or rehabilitate a water project, like a well or sand dam, in Africa. We'll see pictures, GPS coordinates, and updates as they come in from the actual water project we fund so we can celebrate the results along with the community we help.