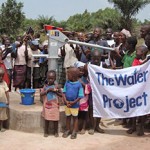 Think about going a day without water. How clean would you feel? How safe? How dry? How thirsty? Imagine feeling that way every day. 
Now imagine feeling free of just one burden. One difference that could mean a life free of illness or struggle. Something as simple as water can make a huge impact on a community, a family, an individual. This is to support those strong individuals who work so hard just to survive, that they don't get the chance to live. To freedom, peace, and hope.
---
Did you know nearly 1 billion people don't have safe water to drink?
Together, we can change that. Let's fund a new source of drinking water for those who suffer needlessly without it!
Our gifts will be used to construct or rehabilitate a water project, like a well or sand dam, in Africa. We'll see pictures, GPS coordinates, and updates as they come in from the actual water project we fund so we can celebrate the results along with the community we help.