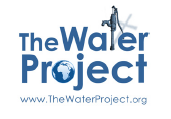 From November 5th through November 18th, Tulane University's Global Service League will be hosting a "Water Challenge." The challenge asks that all participants drink nothing but water for 2 weeks. At the 2 week period, the money that would have been spent on other beverages is donated to The Water Project, an organization which raises funds to build clean
wells in rural parts of Uganda, Rwanda, Kenya, Sierra Leone and Burkina
Faso.
Please, help contribute to our fundraising goal and donate online, share this link with friends and family, and make a difference.
---
Did you know nearly 1 billion people don't have safe water to drink?
Together, we can change that. Let's fund a new source of drinking water for those who suffer needlessly without it!
Our gifts will be used to construct or rehabilitate a water project, like a well or sand dam, in Africa. We'll see pictures, GPS coordinates, and updates as they come in from the actual water project we fund so we can celebrate the results along with the community we help.