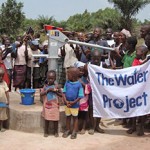 1 Billion
The World Health Organization
estimates that approximately 1 billion people worldwide are affected
by the lack of safe drinking water. In Africa, women and children walk
an average of 6 km (3.7 miles) per day to reach a suitable water
source. The lack of available safe drinking water affects personal health, hygiene, education opportunities, food production, and much more.
A Drop of Hope is a walk/run pledge event organized by the Environmental Science class at Qingdao No. 1 International School of Shandong Province. All proceeds from the event will be donated to The Water Project. 

---
Did you know nearly 1 billion people don't have safe water to drink?
Together, we can change that. Let's fund a new source of drinking water for those who suffer needlessly without it!
Our gifts will be used to construct or rehabilitate a water project, like a well or sand dam, in Africa. We'll see pictures, GPS coordinates, and updates as they come in from the actual water project we fund so we can celebrate the results along with the community we help.