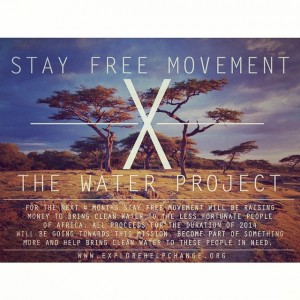 Stay Free Movement holds many causes dear to its heart. One of which is people that aren't given a fair hand in this life, especially children. 
These villages are full of beautiful hardworking people who will never complain or expect better. We believe that we should complain for them and expect to help make their lives better. Most of us take everyday for granted, water, sanitation, food, warmth, a roof, or medical care. There is no telling what the future holds for us, but at least most will have a chance. Before you're there...care.
---
Did you know nearly 1 billion people don't have safe water to drink?
Together, we can change that. Let's fund a new source of drinking water for those who suffer needlessly without it!
Our gifts will be used to construct or rehabilitate a water project, like a well or sand dam, in Africa. We'll see pictures, GPS coordinates, and updates as they come in from the actual water project we fund so we can celebrate the results along with the community we help.