Kalawa Water Project
UPDATE Received 01/2008 - Read Here!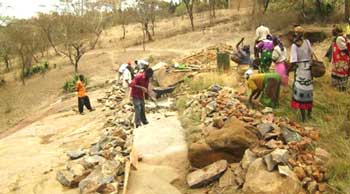 Kalawa Project Details:
Type: Weir (sand-dam)
Size: 175 ft long and 9ft high
Expected capacity: 2 million litres
Beneficiaries: 2,100 people - 350 men, 700 women, 1,050 youth and children, 1,000 livestock.
Location: Kalawa, in Makueni district, borders the Yatta Division of Machakos District on the East and Makueni District on the West. It is 90 kms south of Machakos town.
Total Cost: $5,600 plus the local community's contribution.
Sponsor: Private individual through TheWaterProject.org.
Status: Funded, Under Construction
This report recently came in from the field...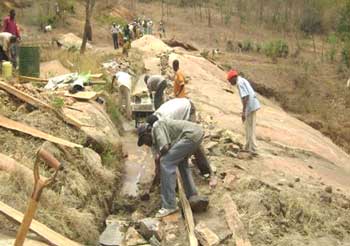 "The average distance traveled to get water by the households is 2 kilometres. Women are particularly disadvantaged for they have to carry the water on their back in 20 litres jerry cans at least twice a day.
The community felt challenged by the scarcity of the water in the area and this has prompted them to be very active in collecting the local materials. Water for the construction of the weir is a big challenge, but the women of the community are very enthused and are carrying the water as far as 2km to bring to the construction site.
The weir construction at Kalawa will be of different engineering mode since it is built on a rock outcrop. They will build two parallel reinforcing block wall sandwiched with concrete of 175 ft long and 9ft high."