Type: Weir (sand-dam)
Size: 90ft long x 15ft high
Expected capacity: 2 million litres
Beneficiaries: 1,500 people (250 men, 500 women, 750 youth and children) and 2,000 livestock.
Description of Area: Ngiini village is found in Lumbwa Location, Kalama Division, Machakos District in Eastern Province of Kenya. The area is hot and dry for most of the year and is characterized by an arid and semi-arid climate. It experiences two rainy seasons per year with long rains coming from April to May and short rains from November to December. Much of the area has clay soil with a few patches of loam. The inhabitants of the area belong to the Kamba speaking group who practice subsistence farming. Crops grown in the area include maize, beans and cowpeas. Most households keep a few cattle and goats.
Total Cost: $5,600 plus the local community's contribution.
Sponsor: Private individual through TheWaterProject.org
Status: Funded, Under Construction
This report recently came in from the field...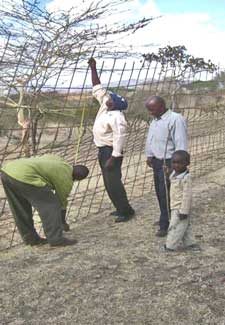 "The average distance traveled to get water by the households is 4 kilometres. Women are particularly disadvantaged for they have to carry the water on their back in 20 litres jerry cans at least twice a day. This is to be a dream of the past with the construction of the weir. The area's population is at the peak of water problem but the community is using oxen carts to draw water for the construction of the weir.
On site of the river at Ulelani River, the gorge is deep as seen in the pictures. The weir will go to a height of 15ft after completion and a running length of 90ft. "