Wells for Schools: Why it Matters
Every day, thousands of students head for class with no clean water. It simply can't be found.
Without access to water, education is almost impossible. Dirty water leads to a cycle of disease, missed school days, and high drop-out rates - especially for girls.
By helping build wells at schools, all of that changes. A simple investment in these wells can unlock the potential of every student by helping them stay healthy and freeing them to remain in class.
Some of the many benefits of access to clean water...
It dramatically improves health, keeping students in class
Eliminates time wasted fetching dirty water
Enables proper sanitation - particularly important for girls
Improves school facilities through construction - concrete requires lots of water
Removes huge financial burdens on schools who often buy water for basic needs
Get Your School Involved - Take the Water Challenge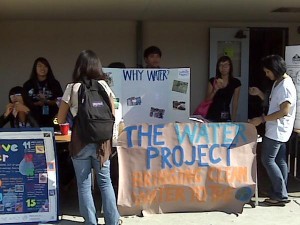 Schools and groups around the world are helping raise money to build these wells! You can too.
The Water Challenge fundraiser is an easy to use and ready to go tool for you to use to inspire and involve your school or group.
Here's how it works:
Grab the free fundraiser kit here »
Organize your team and start the challenge
Collect and send in your group donation
In 8-12 months we'll show you the school well you helped dig!
How Much Does a Well Cost?
Your school or group can sponsor an entire school project for about $15,000.
But don't worry, since these are big projects, we'll often put a few groups gifts together. Everybody will receive the updates on the progress of their well, with pictures, a community profile and GPS coordinates. Everyone is listed on the project tracking page too.
Join us as we join them. Help fund wells at school and change someone's future.