---
Tuesday, February 10th, 2009
by Peter
---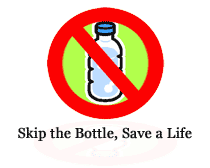 We've just posted two great new articles by Shannyn Snyder, our research intern. She has worked to expose some more of the facts and truth about bottled water and its true value.  See Bottled Water: Not such a clear choice.
As you may know, we encourage all our supporters to give up bottled water and consider filtering water at home so that they can free up some cash to help others.
Check them out the two links above.
Home
More Like This
---