---
Wednesday, June 1st, 2016
by Lisa McAllister
---
We're excited to share a new story from 12 year-old Nduku Muthoka of Malaa Primary School in Kenya. Nduku's school received a rainwater catchment system and latrines in December 2015. Learn how clean water has affected her daily life!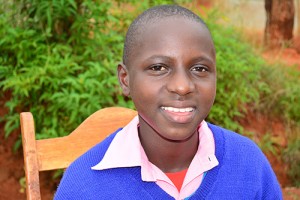 "I no longer carry water to school since we already have a water tank. Before the tank was constructed, we used carry water to school daily. Failure to do so resulted in severe punishment by our teachers. We only depended on a spring and that was always congested all the time because it was shared by the whole village around here. Sometimes, we would be ejected from class to go fetch water. This interrupted our studies and led to poor performance by most of us. One time, my friend Mutheu Mwikali had stomach aches from drinking dirty water and she failed to attend school for several days."
Now that Nduku and her classmates have clean water at school, their lessons are never interrupted. "We now have access to clean water all year round. We can plant trees and flowers in our school compound." And, the health of the students has been positively affected as well. "Water borne diseases have gone down. We now wash hands after visiting the toilets."
Nduku's grades have even improved! "I used to score an average of 330/500 marks in my last year's exam and now I have improved to 350/500 marks. This is because I have freedom to read without interruptions."
To read Nduku's full story, click here.
Home
More Like This
---