---
Wednesday, April 18th, 2018
by Lisa McAllister
---

Jade Yoga has been a supporter of The Water Project since 2011. Jade is committed to making the world's best performing, most environmentally friendly yoga products and giving back to the earth with every product sold – including clean water! We had the opportunity to speak with Dean Jerrehian of Jade Yoga about his commitment to providing clean water through his business opportunities.
Dean first learned about the water crisis from his daughter, while she was in high school. "She explained to me that time kids could be spending in schools learning was often used to travel long distances to obtain fresh water – not to mention the many water-borne diseases they were at risk for. It was honestly surprising to me that such a basic need (that I take for granted) is so hard to come by for me."
Prior to starting JadeYoga, Dean was a lawyer at the Environmental Protection Agency so giving back and protecting the earth has always been important to him. "I have always wanted to make an eco-friendly product," he shares. "When Jade first started in the yoga business, I was proud that we made an eco-friendly product in the US. Then a yogini asked me: 'What else are you doing?' At first, I did not understand the question;  Wasn't making a natural, non-toxic product out of a rapidly renewable resource pretty admirable? But she kept asking until I realized that we could – and should – do more for our customers, our community, and our world; we decided to give back to the earth."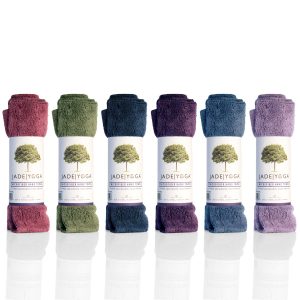 JadeYoga supports The Water Project through sales of their microfiber towels. Each towel sold supplies drinking water for one adult in the developing world for 30 days. "I think all the work the Water Project does is incredible and incredibly important," says Dean, "but I really love the photos taken at the moment when the water at a pump is first turned on. The smiles on the people faces are so natural – they really say it all."
The Water Project is proud to have brand partnerships with businesses like JadeYoga. For more information on how you and your business can get involved, check out our Brand Partnerships.
Home
More Like This
---