---
Monday, April 23rd, 2018
by Lisa McAllister
---
Bio Ouster is all about clean water.  It's more than just their business – it's their passion! They are a leader in household water treatment of hot tubs, swimming pools, jetted bathtubs, washing machines and water filtration systems.  In 2018, through a partnership with The Water Project, they expanded their clean water impact to include the developing world.
We had the opportunity to speak with Managing Partner, David Wood, to hear more about Bio Ouster and their commitment to providing communities with access to safe water.
Prior to starting Bio Ouster, David spent 19 years as the publisher for four industry magazines devoted to the swimming pool and spa industry. "As a leisure industry focused on water, I became very aware of the major worldwide crisis facing humanity," says David. "On a personal level, my son took a 3-week immersion trip in high school to El Salvador. Upon his return, he shared multiple stories of the challenges they faced with just getting access to any water, much less clean water. It left a lasting impression."
When developing their initial business plan, Bio Ouster thought it important to balance manufacturing great products and being a good corporate citizen. "Given our entire product line is devoted to helping people keep their water safe in hot tubs, dishwashers, bathtubs and washing machines we thought we were in a unique position to spread the word," David says.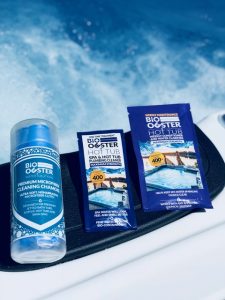 "It was that vision that prompted us to interview and research more than a dozen charities devoted to clean water initiatives around the world," shares David. "From that list, we selected The Water Project as our main corporate sponsor.
We felt The Water Project was different in two ways:
1. The Water Project was very supportive of our vision to reach families that use our products and are already huge water enthusiasts. We just need to educate them. Obviously, many charities focus on social media and grassroots campaigns, but we wanted something different. People are just too busy and bombarded with this type of messaging. We wanted to develop educational collateral that appeared inside our product packaging to spotlight the crisis and The Water Project helped us achieve this. We felt like if we really were going to raise awareness, we needed to think outside the box…or maybe I should say inside the box.
2. Accountability is critical. It's just human nature, but there are always some skeptics who are concerned their charitable contributions are being put it good use with minimal overhead expenses. Our team was immediately impressed with the project tracking and real-time updates that are available to any donor on the thewaterproject.org website complete with bios, progress, and extensive photography.
Our company mission statement is 'Clean water isn't just our business — It's our passion.' I think if you really believe that philosophy than you have to put your money where your mouth is. We have adopted clean water initiatives as our primary corporate outreach. We allocate 5% of our profits to support these worthy causes."
"I love to read and share stories about the positive impact a clean water well installed in a community has on the entire region. Can you imagine if you had to walk 1-2 miles anytime you needed water? Building wells is much more than just providing clean drinking water; it brings people to together, promotes a healthy lifestyle, jumpstarts prosperity and self-reliance."
Bio Ouster employees also love the dedication their company is making. "They love it," says David, "Just like our customers, many of our staff members and suppliers were not aware of the magnitude of this issue.  It just offers another opportunity to get more people and organizations involved."
You can see the impact Bio Ouster is already making here. Learn more about our brand partnerships and how your organization can get involved.
Home
More Like This
---