Wednesday, May 30th, 2018
by Lisa McAllister
We had the pleasure of speaking with Julian Minett, CEO and Charlotte Hood, Consultant of The Spencer Group in the United Kingdom. Julian and The Spencer Group have been supporters of The Water Project since 2011 and have given more than $45,000 to clean water projects.
Julian has been raising money for different charities and developing countries since he was a child, "it was part of how I grew up." He remembers he was a teenager when the water crisis became one of his causes. "We did a fast for a weekend to raise money for water in Africa in order to heighten awareness. It's a long legacy, it must be over 30 years that I've been aware of the crisis."
Julian believes access to safe water is a human right. "You can build, you can farm, you can get an education, you can start to change the world if you have this basic right of clean, safe water. And the fact that we are such a technologically-advanced world, and yet there are still parts of it that don't have this basic right, I think it's an injustice. I think the world should put water first. It's not education or anything else. Without water, nothing else is possible."
Julian acquired The Spencer Group in 2007 and although he was supporting numerous charities at the time, he wanted to focus on water and have maximum impact through one organization. "I'm a businessman, so I was looking at which charities take the least percentage for administration and which of them delivered the most benefit to the individuals in the region. The Water Project stood out as a charity beyond many others as most of what people give to The Water Project goes straight to those in need."
"I loved the idea of being able to see the water projects that we supported and say 'we did that' and then the fact that we are given a report that we can reference and look back at is quite special. It allows you to link to what you've done."
"I also have a personal target of how many people I want to help," he continues "and so by nature, being able to quantify a number of people served through each water project is also very important to me. It helps me to be able to track against this target goal."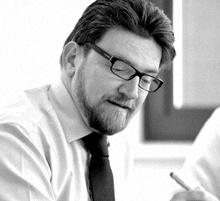 Julian's business goals and giving back to others has been connected from the start. "I have two major passions: to build an outstanding organization in the world of search that delivers outstanding results in two sectors: education and pharmaceuticals. But I knew I could only undertake the commitment and the sacrifices that would be required to own a business if I linked it to being able to help others. Because, to me personally, it's not about the wealth generation, it's about building something special but also, it's about contribution. So, it was the ability to have a much wider impact on the world by building a company that could then contribute more to saving lives than I could have ever done on my own. This was a big driver for me even to acquire the company when I did back in 2007."
Julian believes his relationship with The Water Project has helped him achieve his business goals as well. "For me personally, it helps my drive. I want to achieve these goals of helping others, so I work harder than I would if it were just for commercial gain. It also helps us attract the right individuals who are attracted to organizations who give back. It helps us scale and personally, I think, it illustrates the culture of the organization that we care beyond what we do commercially. The fact that water is a non-market for us – it's not aligned with what we do and doesn't meet commercial objectives-  actually helps it stand out a little more. Aligning with a charity makes the journey a little more enjoyable because scaling a business is never easy. When you are going through a tough time, it's a good reminder that you're doing this for a bigger impact on the greater world."
"What it means to us as an organization is that we are value-driven, we have a global perspective, and we can look outside of own lives and day-to-day operations and that is surely attractive to everyone," adds Charlotte.
In fact, when Charlotte was making the decision on whether or not to join The Spencer Group, their charitable giving did have an impact on her. "I think everyone wants their CEO to look out for other people because that means he'll also look out for you. The human aspect of senior leadership is really nice."
"Everyone here is happy to be involved and it's also a good team building activity to get others involved in charitable work. I think there is a lot of respect for Julian in his personal decisions," she says.
We asked Julian what he would say to other businesses or organizations who might want to get involved. "It's a personal choice but it's about being conscious of having a bigger impact on the world rather than just generating money. It's a cool part of what we do and it's important to what we do. The way we're going to solve the water crisis is going to be through business sponsorships, in my opinion. If we can drive commercial activity, if we can help create economies that can then be self-supporting, then that will solve the problem of governments not being able to or willing to help. I think it is the responsibility of the modern entrepreneur to be involved outside of themselves. When you give people water, you give them the ability to become self-sufficient."
"It's a wonderful cause to be involved in and the ability to engage with what we do – we can actually pick a project and see the progress of it – and then the ability to fully own it – if I'm an entrepreneur, I want to own an outcome, right? – I want to see that my organization did that – I want to see that we can be proud of that – so I think what The Water Project does is very well tailored for a business sponsor who wants to get their team to rally towards a goal and see an outcome."
"It doesn't have to be a long-term sponsorship as ours is, but it's a great rallying cry to say 'let's raise x amount of money and dig a well.' I think The Water Project is really set up great in that way and your communication, website, reports, tracking, is very sophisticated for an organization of your size. It works well for a business because it allows an organization to come through and see it. Overall, it's a very rewarding and enjoyable thing to do."
Learn more about our brand partnerships and how your organization can get involved.
Home
More Like This
---