---
Friday, June 26th, 2020
by Tom Murphy
---
This story is a part of a series by The Water Project meant to highlight the perspectives and experiences of the people we serve and how they are being impacted by the COVID-19 pandemic. See other stories in the series here.
The Kenyan government implemented a series of restrictions to prevent the spread of COVID-19 in the country. A curfew is in place from 9:00 pm to 4:00 am each day, social gatherings are limited, and people are not allowed to move in and out of counties with higher caseloads – including the capital city of Nairobi. As a result, everyday life is significantly disrupted.
For Kanyaa Kavindu, a 57-year-old mother of 7, the changes significantly impact her life. Kanyaa and her husband live in Wamwathi, a community in southeast Kenya. Their elder children live and work in Nairobi. They send home money to their parents but no longer can send as much because their incomes fell as a result of the COVID-19 lockdown. This money is crucial for them because one of their younger children suffers from a health problem that requires extra attention and financial resources.
"It has been difficult taking care of him in such a time with limited financial ability," Kanyaa told our team during a recent visit.
We spoke with Kanyaa as a part of our outreach to communities where we work to understand the impacts of COVID-19 on people's lives. Kanyaa and her husband are members of the Syiluluku Self-Help Group. The members work together to improve their community – notably through projects such as constructing a sand dam and hand-dug well to enable access to safe water every day.
"Our community entirely depends on the shallow well we constructed last year. We have installed a handwashing station at the well to prevent the spread of the virus," Kanyaa said.
Wamwathi Community is in Kitui County of southeast Kenya. It is a semi-arid region that experiences periods of drought – a situation that is only getting worse due to climate change. The households are spread out. Some homes are as far as 2 kilometers apart. Before the construction of the project, community members, including Kanyaa, woke up at 3:00 am to get water from the nearest reliable water point. Now, people can make a short walk to the dam and shallow well they completed instead.
The project is helping the Kavindu family deal with the unique challenges presented by COVID-19. While the money remitted from Nairobi has decreased, the family now has a garden where they grow vegetables – something they did not have before.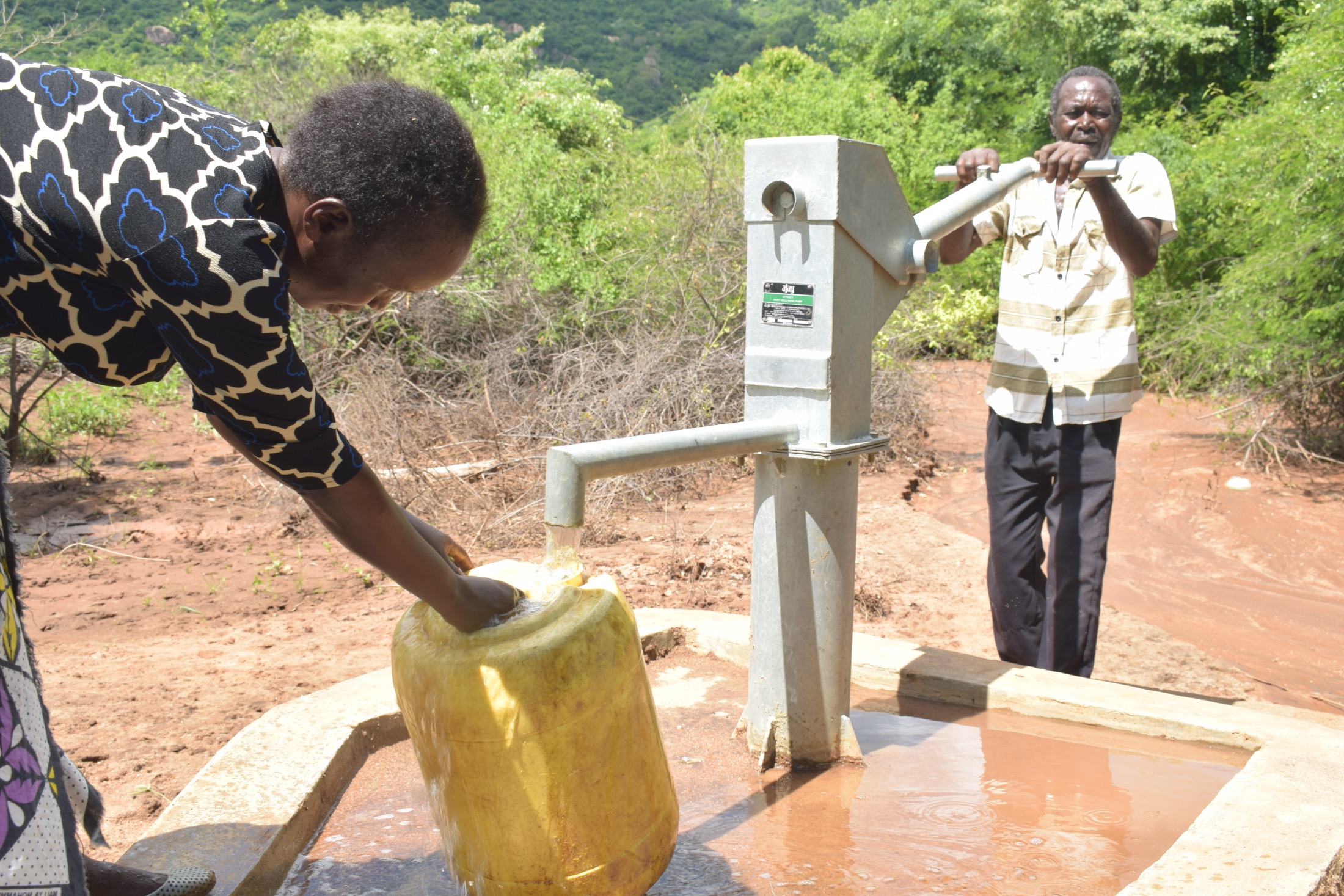 "Using water from the well, we have developed a small garden near the water point where we have grown pawpaws, maize, sugarcane, and sweet potatoes. All this supplements the small produce from our farm toward feeding my children and grandchildren here at home," Kanyaa explained.
The sugarcane holds the potential to provide income for the family, too. It takes more than 18 months to mature but it is very lucrative if grown successfully.
During our visit to Wamwathi, our teams conducted a COVID-19 sensitization training. We went over national and international standards for preventing the spread of COVID-19 and refreshed previous training on topics such as handwashing and constructing tippy tap handwashing stations.
Fortunately, access to water is not a concern for this community anymore.
"The sand dam and shallow projects have been of great importance to us in this time of coronavirus outbreak. The well has been supplying us with clean water since the day it was completed last year," Kanyaa said.
"This has greatly enabled us to practice regular hand washing with clean water since the water is available in plenty."
Home
More Like This
---