Thursday, December 3rd, 2020
by Tom Murphy
Our team recently visited Kanthuni in Southeast Kenya to conduct COVID-19 prevention training and monitor their water point system: a sand dam and nearby shallow well. Shortly after, we returned to check in on the community, offer a COVID-19 refresher training, and ask how the pandemic affects their lives.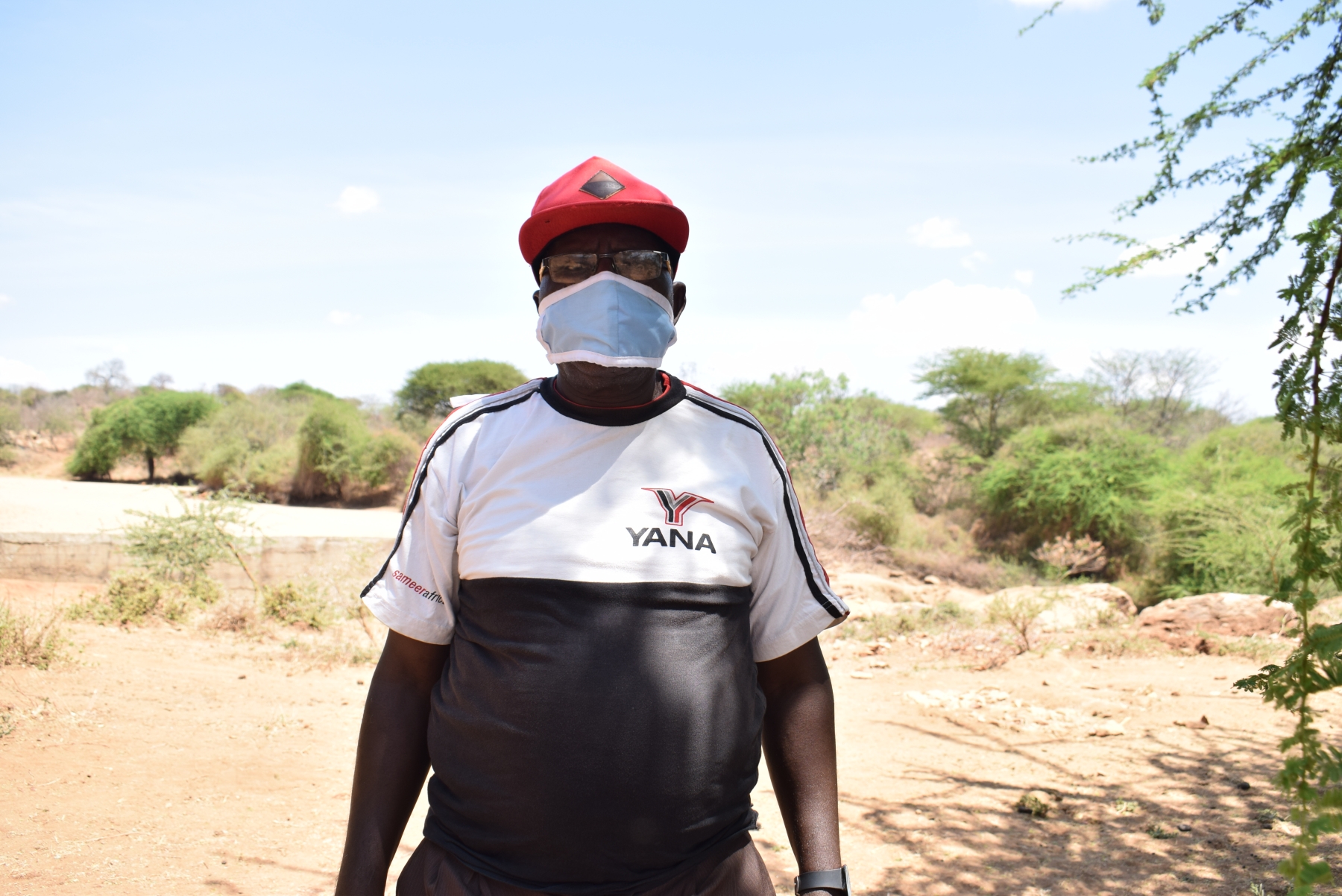 During this most recent visit, Leonard Nguluma Maloloi shared his story of how the coronavirus is impacting his life and his community.
Field Officer Lilian Kendi met Leonard outside his home to conduct the interview. Both Leonard and Lilian observed physical distancing and other precautions throughout the visit to ensure their health and safety. The following is Leonard's story, in his own words.
---
What is one thing that has changed in your community since the completion of the water project?
We have experienced a lot of changes in this community since the installation of this water point. Water diseases such as typhoid are not as rampant as before because we have clean and safe water for drinking from the shallow well. The general environment has also changed since the sand dam project's construction as the water table has been replenished. Our livestock does not have to walk long distances to get drinking water as the water point is adjacent to our homes. Community members have been using the water to plant vegetables such as kales, spinach, and tomatoes. We have plenty of food thanks to this project.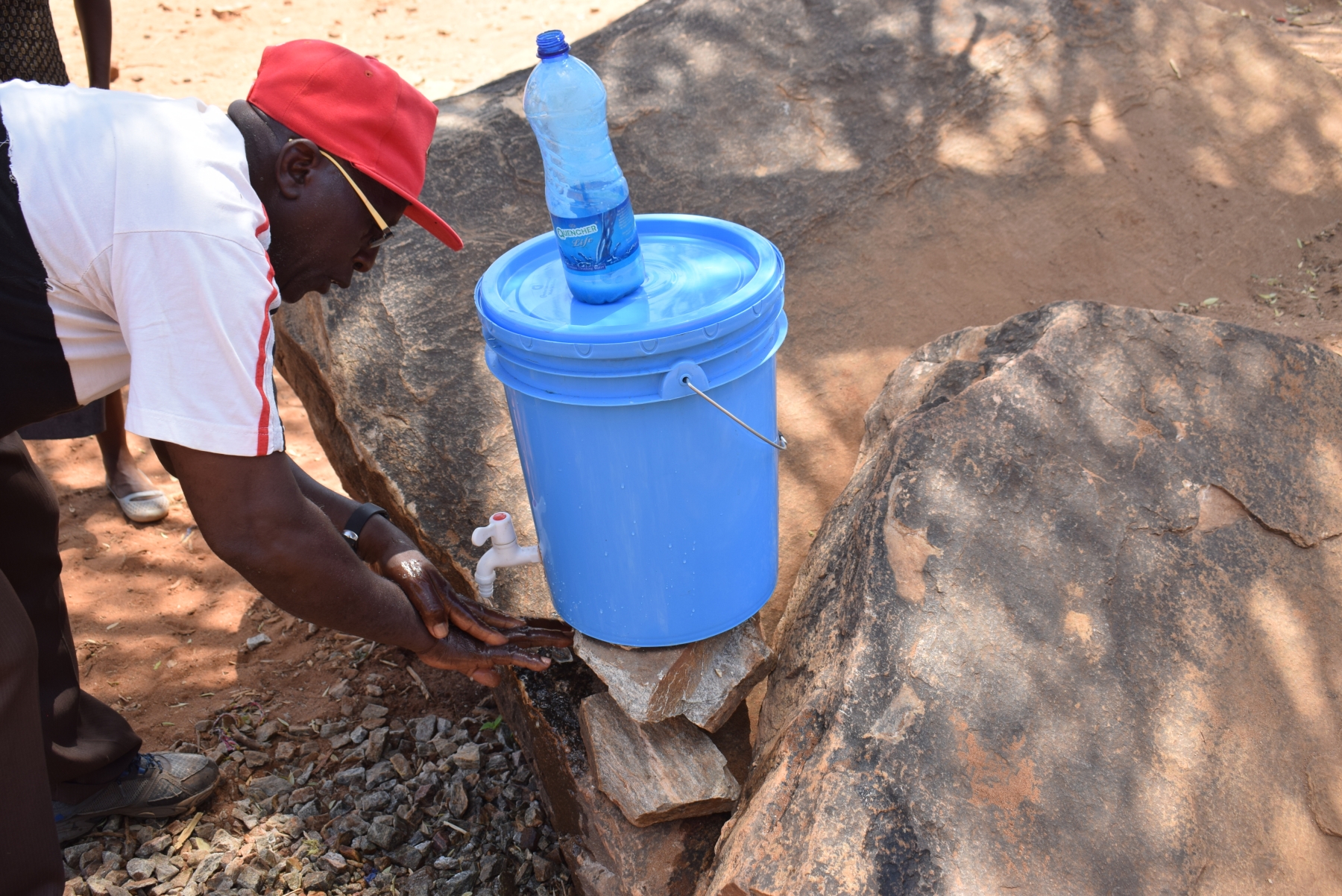 How has having a clean water point helped you through the pandemic so far?
The availability of clean water has helped us during this period as we now have water for drinking and for washing our hands at all times. We have also been using the water for irrigation purposes, which has helped keep us afloat during this pandemic as we have had food on our farms.
Since the outbreak of COVID-19 in Kenya, has fetching water changed for you because of restrictions, new rules, or your concerns about the virus?
I have encountered several changes regarding fetching water since the outbreak of COVID-19 in the country. Now I have to abide by the government's rules and restrictions, such as wearing masks at all times whenever I'm at the water point, handwashing before and after handling the hand pump, and observing social distancing by making queues when fetching water.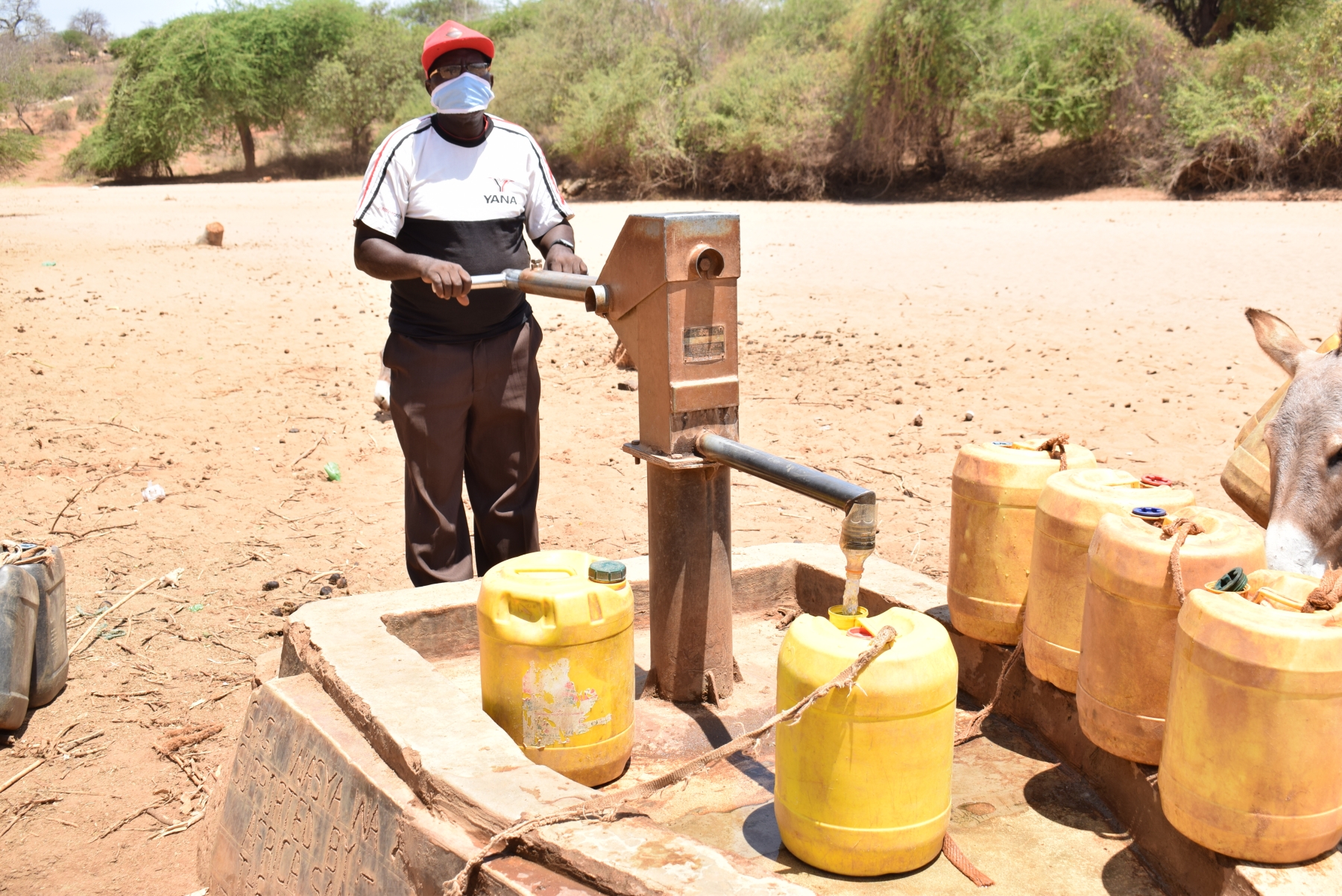 How has COVID-19 impacted your family?
My children who lived and worked in Nairobi frequently sent remittances before the onset of the pandemic; however, since it set in, they could not send any money due to loss of jobs as most of the companies were downsizing their employees.
What other challenges are you experiencing due to the COVID-19 pandemic?
Stabilizing the economy has been very gradual as commodities are still pricey due to the coronavirus pandemic's effects. The second wave of the pandemic has more citizens succumbing to the disease, which is causing a lot of fear in our day-to-day activities. We are keen on observing the rules and regulations as we are afraid of contracting the disease.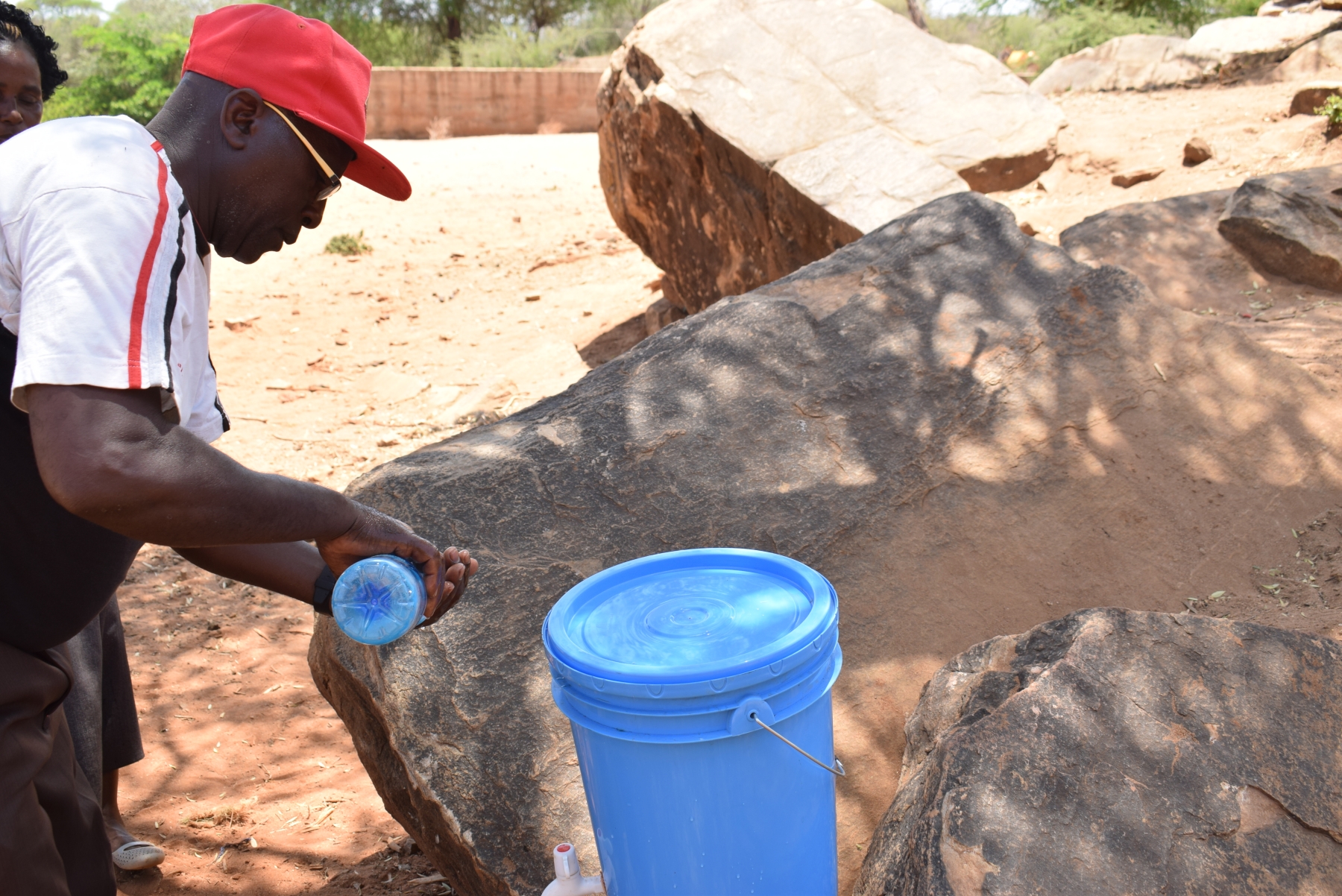 What hygiene and sanitation steps have you and your community taken to stop the spread of the virus?
We have taken several steps to cope with the spread of the virus. Among them are:
-Social distancing
-Washing hands at all times using clean water and soap
-Wearing masks
Like most governments worldwide, the Kenyan government continues to set and adjust restrictions both nationally and regionally to help control the spread of the virus.
What restriction were you most excited to see lifted already?
I was most excited about the opening of churches and the lift on the age limit as this would enable our children to receive counsel from their elders and know the right ways to follow. We are also allowed to have social gatherings as long as we follow the government's rules and regulations.
What restriction are you still looking forward to being lifted?
Life is still normalizing, and we are comfortable with the progress of how things are unfolding. I look forward to the schools' opening as our children adopt unhealthy behaviors due to peer pressure, and it isn't easy to control them.
When asked where he receives information about COVID-19, Leonard listed the radio, word of mouth, and our team's sensitization training.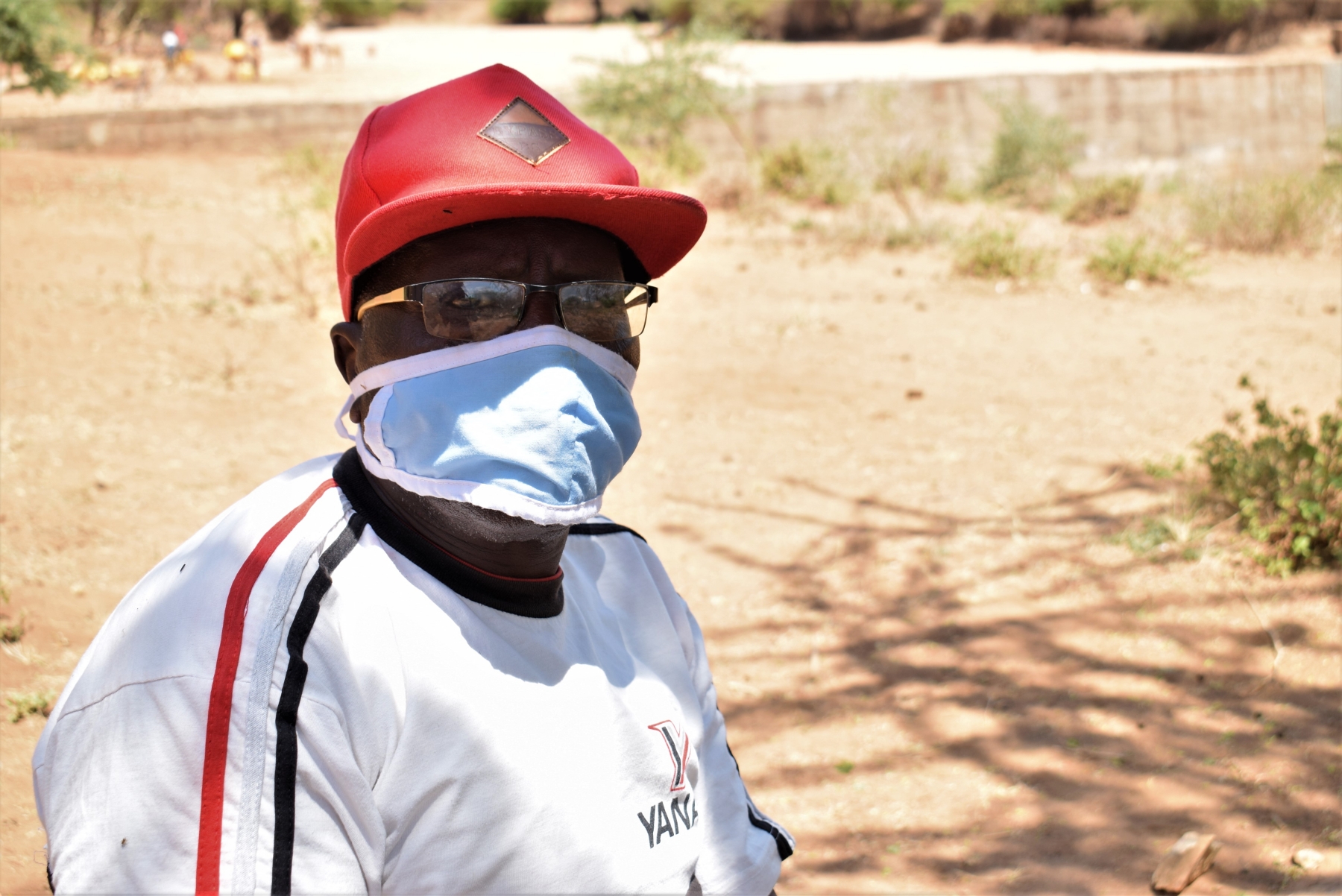 What has been the most valuable part of the COVID-19 sensitization training you received from our team?
The COVID-19 training and sensitization was beneficial to my family and me. I learned that handwashing at all times is critical in fighting against the COVID-19 pandemic. Wearing masks is also essential, especially in public places, to protect oneself from exposure to the virus.
How has accessing food been at this time?
We have had abundant food on our farm thanks to the previous rainy season. The only challenge was purchasing food from retail shops as most shops were closed due to the pandemic. However, using water from the sand dam project, we could engage in small scale farming of vegetables such as kales, spinach, tomatoes, onions, and green peppers.
This post is part of a new series by The Water Project meant to highlight the perspectives and experiences of the people we serve and how the COVID-19 pandemic is impacting them. We invite you to read more of their stories here.
Home
More Like This
---