December, 2017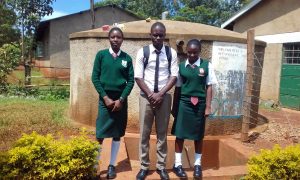 A year ago, generous donors helped build a rainwater catchment system and latrines for Chambiti Secondary School in Kenya. Because of these gifts and contributions from our monthly donors, partners can visit project sites throughout the year, strengthening relationships with communities and evaluating the actual water project. These consistent visits allow us to learn vital lessons and hear amazing stories – we're excited to share this one from our partner, Samuel Simidi, with you.
---
Enrollment has spiked since the surrounding communities heard that Chambiti Secondary School now has clean water. Classrooms are clean and students feel comfortable in a conducive learning environment. Study time is no longer wasted since there are sufficient sanitation facilities and clean water available on school grounds.
Samuel met with Headteacher Ojinda for his visit to the school, to hear from her what changes she's witnessed over the past year. She said, "There has been an enrollment increase of 31 students in 2017, for there is sufficient clean water in our tank so students no longer have to walk to fetch water from the nearby spring. Students are even able to observe personal hygiene (like hand-washing) due to the training they attended on sanitation and hygiene." But she also admitted that though the increased enrollment is wonderful, "very soon the consumption rate of water will be too high and the sanitation facilities not sufficient."
17-year-old Faith Aronda is a student at Chamibiti Secondary School. She told Samuel that there's always sufficient water for what she needs, and that she's been able to practice personal hygiene. Her performance in exams has improved this year because she has been able to save time… Check out the video below to watch Faith's interview for yourself!
---
The Water Project and our partners are committed to consistent monitoring of each water source. Our monitoring and evaluation program, made possible by monthly donors, allows us to visit communities up to 4 times a year. Read more about our program and how you can help.
See The Water Project in Headteacher Ojinda's Community »