October, 2022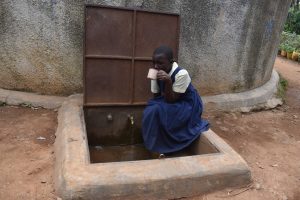 "It was so hectic, especially carrying water and books in the morning when it is very cold," said 11-year-old student Iminza S., when describing what life was like for her before we installed a rain tank at her school last year.
"Much of our time meant for studies was going to waste when [we were] sent for more water [at] a distant surface water [source] because [what] water the [students] carried in the morning was not enough to run all [the] school activities," said Iminza. "Water now is readily available within the school compound, so getting it is very easy as opposed to before."
Iminza's teacher, 49-year-old Daniel Apat, also had exciting things to share.
"Currently, there is increased teacher [and] pupil contact, which has resulted in good performances, and also [the] teaching staff has been able to complete [the] syllabus on time. Health aspects have improved [for] both learners and teaching staff because we are getting enough clean and safe water for drinking. Besides, [the] relationship between [the] school and the [local] society has been restored because students are no longer going outside for water. Also, we do allow them to use [the] waterpoint when they have community functions, thus strengthening the ties more," said Daniel.
"Moreso, water from the tank is safe for drinking because treatment is done on [a] regular basis. Thus, we [are] no longer prone to waterborne and water-related ailments as it was before on consuming water from unknown water sources," said Iminza.
She concluded: "The water point has helped me personally greatly. I used to be a victim of waterborne ailments before, but since the installation of the water point, I rarely miss schooling, and this has translated [into] good performance in my academics."
See The Water Project in Iminza's Community »