December, 2017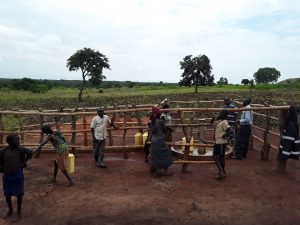 A year ago, generous donors helped install a well with Karungu II Community in Uganda. Because of these gifts and contributions from our monthly donors, partners can visit project sites throughout the year, strengthening relationships with communities and evaluating the actual water project. These consistent visits allow us to learn vital lessons and hear amazing stories – we're excited to share this one from our partners, Geoffrey Kusemererwa and Sovia O. with you.
---
Karungu Village in Kiryandongo District became Open Defecation Free (ODF) with 100% latrine coverage on December 22, 2016.
The well has really served the community members, since they used to have to collect water from an open water source. Scovia, the CDO in charge says that since this water point was constructed, there are reduced cases of diseases caused by consuming dirty and contaminated water. These diseases like typhoid mostly affected young children (below the age of 10 years).
This community is by the park (Queen Elizabeth National Game Park), so constructing this water point near homes has helped reduce the encounters between people and wild animals like elephants. There have been many cases of elephants attacking the local people, which would further scare them from making the long journey to the open water source.
Scovia met with Jacob Angut at the water point to talk about how it has impacted life in Karungu. "People are grateful because they are now drinking clean water. Community members no longer complain of water diseases like diarrhea which were common before… Each family in the catchment area contributes 1,000 shillings a month to use the well, which goes towards repairing the pump when it breaks down. We currently have about 90,000 shillings saved."
Rose Akullo came by to fetch water while Scovia was there. "These days we don't go to the open source where we were being bitten by mosquitoes, which would cause malaria. Malaria would prevent us from going to school. We have clean water both at home and at school," she shared.
Scovia said that he's happy with how well the community members are managing this well. There is a good fence to keep animals out, and they're collecting the water user fees with a good record keeping system. He is positive that they will be able to continue taking care of their well so that it will serve them for many years.
---
The Water Project and our partners are committed to consistent monitoring of each water source. Our monitoring and evaluation program, made possible by monthly donors, allows us to visit communities up to 4 times a year. Read more about our program and how you can help.
See The Water Project in Jacob Angut's Community »