December, 2017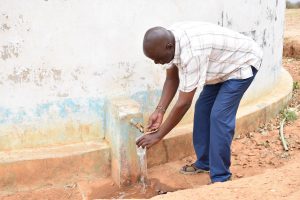 A year ago, generous donors helped build a rainwater harvesting tank and latrines for the Kavumbu Secondary School in Western Kenya. Because of these gifts and the contributions of our monthly donors, our partners are able to visit project sites throughout the year, strengthening relationships with communities and evaluating the actual water project. These consistent visits allow us learn vital lessons and hear amazing stories – we're excited to share this one from our partners Titus Mbithi and Joe Kioko with you.
---
Students no longer have interrupted days due to the need to walk to Kwa Kalenga Earth Dam to fetch water, which is one kilometer away.
Students have enough water for drinking, while the boarding students can easily bathe and wash their clothes. Levels of hygiene at the school have improved.
We met Principal Kioko at the water tank to talk about how it's further impacted his school. He said that "students no longer leave the school during study hours. General hygiene levels have improved, and the water tank saves the school 40,000 shillings a month in water costs. This money is now used to restock textbooks that help students perform well academically." He continued by saying that "as a result of higher enrollment of students because of water availability, sometimes the demand for water at the tank necessitates rationing for it to last through drought."
17-year-old Rebecca Mwikali is a boarding student echoed what her principal had to say: "We are getting enough water for drinking, showering, and washing. We no longer walk to the dam to fetch water, and we now have access to hand-washing facilities which have improved hygiene."
Students and staff no longer have to stress about where their water is gong to come from, and can instead focus on what they're there for.
---
The Water Project and our partners are committed to consistent monitoring of each water source. Our monitoring and evaluation program, made possible by monthly donors, allows us to visit communities up to 4 times a year. Read more about our program and how you can help.
See The Water Project in Principal Kioko's Community »