December, 2017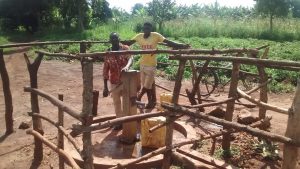 A year ago, generous donors helped install a well with Kinuuma Community in Uganda. Because of these gifts and contributions from our monthly donors, partners can visit project sites throughout the year, strengthening relationships with communities and evaluating the actual water project. These consistent visits allow us to learn vital lessons and hear amazing stories – we're excited to share this one from our partner Geoffrey Kusemererwa with you.
---
Kinuuma Village, with a catchment population of 42 households became Open Defecation Free (ODF) with 100% latrine coverage on January 17, 2017. The latrine construction was accompanied by the construction of other sanitary facilities like kitchens, bath shelters, and drying racks. These facilities have helped to further improve the sanitation of this community, hence improving the health of its people.
The construction of a well in this community has helped reduce the time community members used to spend while walking long distances in search of clean, safe drinking water.
Geoffrey met with the village elder, Francis Kusiima at the well to talk about how life has changed over the past year. He said "there have been continued follow-ups to ensure every household improves their sanitation with latrines, drying racks, and rubbish pits. We were also taught how to manage and maintain our water point well. For every household that uses this water point, they contribute 1,000 shillings each month meant for repairs and maintenance of the water point. About 35 of the 42 households pay this fee, and we currently have 75,000 shillings saved with clear records and accountability."
17-year-old Emmanuel Katwesige came by to fetch water while we were there. He said, "The distance to the water point has decreased. This is because it is near our homes, meaning that a lot of time is saved, which gives me a chance to reach school on time. I do not need to come back from school worried of going to fetch water at night because the water point is right here. Besides, the water is clean so diseases like typhoid that used to disturb us so often are not common anymore."
This community is working hard to ensure that they take good care of their water point. They've constructed a fence and cleared all the bushes. Coupled with the great management, we're sure that this well will continue to serve the community with clean water.
---
The Water Project and our partners are committed to consistent monitoring of each water source. Our monitoring and evaluation program, made possible by monthly donors, allows us to visit communities up to 4 times a year. Read more about our program and how you can help.
See The Water Project in Emmanuel Katwesige's Community »