December, 2017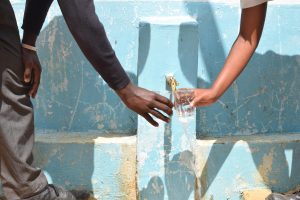 A year ago, generous donors helped build a rainwater harvesting tank and latrines for the Lung'u Secondary School in Western Kenya. Because of these gifts and the contributions of our monthly donors, our partners are able to visit project sites throughout the year, strengthening relationships with communities and evaluating the actual water project. These consistent visits allow us learn vital lessons and hear amazing stories – we're excited to share this one from our partner Titus Mbithi with you.
---
Clean water has changed the culture at Lung'u. There is no more stress about where water is going to come from, and about whether or not it's safe to drink. There is enough for both students and staff.
Furthermore, there are higher standards of hygiene and sanitation, and the hand-washing stations are still being used by students.
We met Deputy Principal Daniel Musembi at the rainwater catchment tank to talk about the impact it's had over the past year. "We now have enough water supply in the school." And since it's no longer necessary to buy water from vendors, "the school is saving on average 18,000 shillings per month. Cases of students falling sick have decreased significantly, all owing to the clean water access."
17-year-old Fridah Nduku is a boarding student who relies on her water needs through day and night. She said that "more water is now available for the boarding students. Formerly, we had five liters per day. Now, we have 10 liters per day. This has improved student cleanliness. Hand-washing stations have also improved the levels of hygiene and sanitation." When we asked if there were any big problems she was still facing, she responded by saying "most of her problems have been solved by the tank."
---
The Water Project and our partners are committed to consistent monitoring of each water source. Our monitoring and evaluation program, made possible by monthly donors, allows us to visit communities up to 4 times a year. Read more about our program and how you can help.
See The Water Project in Fridah Nduku's Community »