December, 2018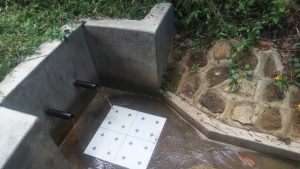 A year ago, your generous donation enabled us to protect Kombwa Spring for Matsakha Community in Kenya. The contributions of incredible monthly donors and others giving directly to The Water Promise allow our local teams to visit project sites throughout the year, strengthening relationships with communities and evaluating the water project over time. These consistent visits allow us to learn vital lessons and hear amazing stories – and we're excited to share this one from local team member Karen Maruti with you.
---
Matsakha Community has not been the same since the project done a year ago.
During our first visits to the community before the project, few people had dish racks or clotheslines and no homes had handwashing stations near their toilets. We recently visited the community and immediately noticed that there are great improvements in terms of hygiene. A number of people had constructed the dish racks, clotheslines, and numerous handwashing stations near the toilets. The homes also looked well kept with cut grass, cleared brush, and clean compounds.
The children had smiles on their faces as we passed them.
This tremendous change is a result of the spring protection and the accompanying hygiene and sanitation training completed here. We heard testimonies of change from people like Kefa Kombwa.
I was born in this community and for the last 38 years have been drinking this water that was contaminated. I suffered constantly from infections as a result of drinking the contaminated water. Since this spring was protected, I have seen a great difference in my life. I have not visited the health center since last year and have saved a lot of money that I previously spent on medicines to treat illnesses.
This year I have started a poultry project that will go a long way in improving my livelihood. The women and children, on the other hand, are great beneficiaries as their health has also improved. There are reduced rates of typhoid and bacteria infections amongst the children due to this spring protection.
Protection of the spring is only one step along the journey toward sustainable access to clean water. The Water Project is committed to consistent monitoring of each water source. Our monitoring and evaluation program, made possible by donors like you, allows us to maintain our relationships with communities by visiting up to 4 times each year to ensure that the water points are safe and reliable.
This is just one of the many ways that we monitor projects and communicate with you. Additionally, you can always check the functionality status and our project map to see how all of our water points are performing, based on our consistent monitoring data.
One project is just a drop in the bucket towards ending the global water crisis, but the ripple effects of this project are truly astounding. This project in Matsakha is changing many lives.
"Now with the safe, clean water I no longer miss school due to illness. I belief this will go a long way in improving my academic performance," said 13-year-old student Simon Kombwa.
This is only possible because of the web of support and trust built between The Water Project, our local teams, the community, and you. We are excited to stay in touch with this community and support their journey with safe water.
Read more about The Water Promise and how you can help.
See The Water Project in Kefa Kombwa's Community »