December, 2018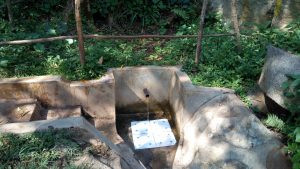 A year ago, your generous donation enabled us to protect Laurence Spring for Shitoto Community in Kenya. The contributions of incredible monthly donors and others giving directly to The Water Promise allow our local teams to visit project sites throughout the year, strengthening relationships with communities and evaluating the water project over time. These consistent visits allow us to learn vital lessons and hear amazing stories – and we're excited to share this one from local team member Betty Majani with you.
---
This water project has changed things for the better.
The lack of clean and safe water for consumption had been like a thorn in the side of this community for decades. People contracted waterborne diseases and the money spent on medication contributed to the perpetuation of poverty.
That is now in the past. The community members are enjoying clean and safe water, and this is evident by the excitement the members have while fetching water.
"The project has made my life easier and enjoyable," said Brian Murunga to us during a recent visit to the spring. "I have more time for personal studies since I take very little time to fetch water from the spring."
Community members now experience good health and have the energy and resources to engage in development-oriented activities. The attitude towards proper sanitation and hygiene has changed due to the hygiene and sanitation training that accompanied the spring protection. People know that practicing good hygiene is worth the time and effort.
"The good health I am experiencing has helped me reduce the number of days I miss school and this has helped me to perform better in my academics," Brian added.
Protection of the spring is only one step along the journey toward sustainable access to clean water. The Water Project is committed to consistent monitoring of each water source. Our monitoring and evaluation program, made possible by donors like you, allows us to maintain our relationships with communities by visiting up to 4 times each year to ensure that the water points are safe and reliable.
This is just one of the many ways that we monitor projects and communicate with you. Additionally, you can always check the functionality status and our project map to see how all of our water points are performing, based on our consistent monitoring data.
One project is just a drop in the bucket towards ending the global water crisis, but the ripple effects of this project are truly astounding. This project in Shitoto is changing many lives.
"We are experiencing good health thanks to the spring," Phanice Nashilove said.
She is spending less time and money treating waterborne illnesses – as is the case now for most people in Shitoto Community. That means people can seize opportunities that will improve their lives.
This is only possible because of the web of support and trust built between The Water Project, our local teams, the community, and you. We are excited to stay in touch with this community and support their journey with safe water.
Read more about The Water Promise and how you can help.
See The Water Project in Phanice Nashilove's Community »