September, 2014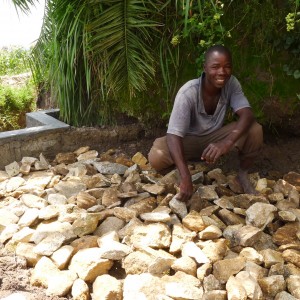 Benedict Oruma is one of the skilled masonry artisans working with WEWASAFO. He undertakes water and sanitation construction works in the communities and schools under the Water and Sanitation (WASH) project funded by The Water Project.
He was born in 1978 and is married to Eunice Lumiti for the last 12 years. They have three healthy boys namely Lukas 12, Barrack 8, and Leonard who is 5 years old.
Benedict Oruma is a form four-school graduate who after completing his high school did not have sufficient funds to proceed to college. He therefore started doing menial jobs in the area of unskilled labor to the masons who were undertaking construction works in his rural home area in Budalangi. "I did not know that one day my unskilled labor would become a stepping stone to changing my life," remarked Benedict.
The water and sanitation projects that WEWASAFO manages and The Water Project funds, stipulate criteria of community contribution of 25% of the locally available materials namely, sand, ballast, hard core, bricks, poles for fencing, food and accommodation for skilled fundis (laborers) and unskilled fundis while WEWASAFO provides 75% hard ware materials and skilled laborers.
These unskilled fundis assist the skilled artisans and are simultaneously being trained, so that the masonry skills can remains within the community for future repairs and replication of the projects when the organization phases out. Benedict Oruma was selected as one of the unskilled laborers. He had some passion inside him that pushed him to keenly learn the masonry work unlike his fellow friends who were only interested in getting their daily bread.
Because of his dedication and desire, he keenly followed up the skilled fundis to various sites for 6 months till he grasped the masonry skills. WEWASAFO selected aggressive artisans to train them on the job and he was lucky to be among them and was trained for 1 week and awarded a certificate of masonry. Since he was not able to join the college due to lack of money, with the little money that he earned he enrolled at Busia Polytechnic and successfully passed the examinations of masonry.
"I want to appreciate WEWASAFO for this great opportunity they have accorded me. I am paid as a skilled contractor now. This has enabled me to purchase a piece of land in Busia and build a home for my family. I am also paying school fees for my children with a lot of ease. I have 3 sons and 2 orphaned nephews that were left by my brother when he died."
Apart from sustaining his family he also engages in farming as a business that is also fetching him very good income.
He proudly states that he has also mentored and trained five other unskilled fundis on the job who have also graduated to skilled masonry artisans and are now undertaking construction works. This indeed is job creation at the community level that also contributes to poverty reduction that stands at 60% in Kakamega.
"I am very grateful to WEWASAFO and The Wwater Project for what they have done in my life, and I pray to God to give you good health and more funds so that you can continue supporting other projects that will improve our communities and prevent water borne diseases and also provide job opportunities to other youths like me who had no opportunity to join colleges. Long live The Water Project and WEWASAFO."
Conclusion
The visit was timely and very important for the project. There was mutual benefit to the discussions and observations drawn by both teams i.e. TWP and WEWASAFO that would help improving future interventions. We, the WEWASAFO fraternity propose to have more of these monitoring visits by TWP so that we can bond more and learn from each other. Crissie was very supportive and encouraging as we visited the sites. We are humbled by her great way of doing work. 
See The Water Project in Benedict Oruma's Community »