July, 2019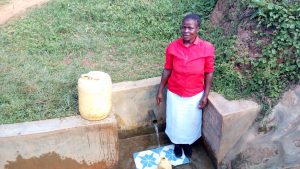 Community members in Ataku Village are very grateful because they no longer waste time as they did in the past. That change happened a little over a year ago when we helped protect Ataku Spring.
Back then – before the protection – Ataku community members would come to draw water only to find it very dirty. They were then forced to look for alternative water sources, often equally distant and contaminated as Ataku Spring.
The only other choice was to wait for more than an hour for the water to clear up at the muddy, unprotected Ataku Spring, and to wait in line with the dozens of other people trying to fetch water too.
Today, all that has changed. Very little time is spent drawing water, and as we near closer to completing a rainwater tank at nearby Ematiha Secondary School, we anticipate the crowding going down as well. Most children who once suffered waterborne diseases from the contaminated spring water no longer do, and no money is spent on medication for these problems.
17-year-old Charle Okute, a student from Ematiha Secondary School, said that "as a result of safe and clean water from this spring, [we experience] reduced diarrhea diseases and thus we no longer have to be out of school all the time."
For Esther Nyakowe, a secretary who lives in Ataku, the spring protection has meant a change in the entire dynamic of her village.
"Since the project was implemented in this village, families are more united because they have a self-help group that brings them together once every month," she said.
"[Additionally], disputes resulting from gossip amongst women have reduced tremendously as [women] no longer waste time at the spring talking about one another."
We have high hopes for the continued good maintenance of Ataku Spring, and already look forward to our next visit there.
See The Water Project in Esther Nyakowe's Community »