November, 2019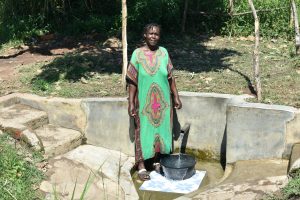 "As a woman and a mother, I am very happy because my family is healthy. I no longer go to the hospital because of water-related diseases. Accessing the water is easy because of the pipe and I take less time to fetch water…I have now started poultry farming since I have enough [water and money] to raise the chickens for business."
These are the words of Josephine Shamalla, the treasurer of her community's water user committee in Bukhanga village. (To hear Josephine in her own voice, along with Nicholas quoted below, check out the video on the Photos tab of this project page!)
On our most recent visit to Indangasi Spring there, Team Leader Emmah Wekesa checked up on the spring and interviewed community members about the impact the spring has had on their lives since its completion.
"This community is happier and more healthy since [the spring] protection. They use less time to fetch water because of [improved] access. They have introduced table banking as a way of helping one another to meet their financial needs though in a special way. They are always available whenever we conduct community engagement and they are grateful for the protection of the spring," Emmah reported.
"My life has changed for the better," said 15-year-old Nicholas Muhatia. "I have gotten used to this water, it is accessible and very sweet. If I drink water from any other source it tastes funny!" he said with a smile.
What else is going well in Bukhanga?
Emmah reported that the spring is well maintained and the surrounding area is clean. The water user committee meets monthly to address the spring needs, and the water quality tests have always indicated that the water is safe and clean to drink. The number of spring users has also increased since access is now improved.
As for the future, community members plan to venture into fish farming by using the runoff water from the spring – an idea they say would not have been possible even to think of, let alone do before the spring was protected.
See The Water Project in Josephine Shamalla's Community »