September, 2019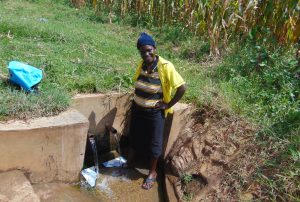 Since the protection of Shitende Spring last year, the lives of people here have greatly improved in various ways. The once-frequent trips to the hospital due to diarrhea have reduced in the past year.
Community member Magdaline Okumu told us how before with her children, "a week could not end without them going to the hospital but now, even a month ends. This is a great change that came by protection [of] the water point."
Before the spring protection and health and hygiene training, many households here did not have sanitation facilities such as bathrooms, toilets, dishracks, or even clotheslines. During our most recent visit, it was noticed that the families that did not have these facilities before now have them, and the 5 families who were chosen by their neighbors to receive the sanitation platforms have improved their household's health and sanitation status.
The community members here remain very happy and grateful for their project.
Many have shown improvement in their lifestyles regarding sanitation, hygiene, health, and economic growth compared to when we conducted our baseline survey here. Women have now set up financial merry-go-round style funds within their village, which they use to start and maintain their unique small businesses. These have helped to reduce gossiping among the women, which otherwise used to bring fights. But now, they are happily busy engaging in other endeavors.
"The biggest change that has touched everyone is that we have clean and safe water for everybody. Initially, we used to have a problem with water and it ended up affecting us, especially our children, who used to get sick on most occasions," said Magdaline Okumu.
"Another change is seen with the sanitation of the community members who mostly attended the training. We were given sanitation platforms which had helped us to have good toilets which we use effectively and are easy to clean. This is something we could not get [on our own] but we thank God for the people who out of kind heart did not know us but came in to help us."
"Another change that has occurred is that I personally learned that we should not just sit and wait [for things] to be done. Since the time I attended the training, we formed a group that has helped me. From the merry-go-round that we had, I started a small business and this has changed my life. If I could not have attended the training then I could not have known about all these [possibilities]."
On the younger end of the community spectrum, we also spoke with 13-year-old Shakila Naliaka, a girl chid here.
"My life has changed in…that I have a lot of time after coming [home] from school. I only take…10 minutes to get to the spring [to] fetch water and [I] am back home to do the other assigned work. This is all because the water point was protected [and] stairs and discharge pipes were put [in] which enables us [to] get water easily," Shakila said.
"No fights are happening among us kids [about how] someone has passed you in the queue and/or has made [the] water dirty before you fetch [it]. Protecting this water point has brought us peace and unity."
See The Water Project in Magdaline Okumu's Community »