October, 2019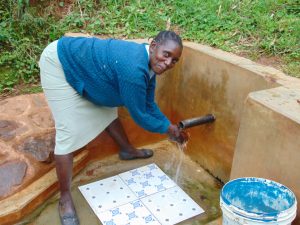 Field Officer Laura Alulu recently visited Chepnonochi Spring in Chepnonochi to check up on the spring and interview community members about the project's impact in its first year since completion. Laura shared the following reflection from her visit:
"In the past year, the community of Chepnonochi has really changed because before they had difficulty in accessing the water. They didn't have the stairs, hence they could easily fall down when fetching water. This is no more since the place is well-constructed and they are sure of their physical wellbeing."
"Another thing that the beneficiaries are sure of is that they can now access clean water, for [in] the last one year they have not wasted time waiting for the water to settle down after one has fetched so as to get clean water. This is because by putting [in] the discharge pipe, this has really saved them time and the hustle they used to go through. It's evident by the slogan they use to welcome you when you talk of the spring, [saying] "our water" with so much happiness and bragging."
"Their water is good, it looks clear in color, there is no pollution near the spring, no toilets uphill, meaning there are no contaminations or pathogens in the water. Again they have maintained discipline, they don't step on the backfilled area, everything is intact."
Christine Aswani Anjeyo met with Laura at the spring to share what it has been like living with the protected spring in their village over the last year.
"Some of the biggest changes that have been happening since the project last year is that one, this water has been constant throughout the year, we've never lacked water. Two, the method in which we use to fetch [it] is improved, no time wasting because you simply place the container under the discharge pipe and water flows directly into it, hence saving both time and energy."
"Third, everyone feels comfortable going to fetch water. This includes the children since initially, they could fall inside the unprotected spring. Right now even parents are not worried when the children go out to fetch water since they are sure of their safety."
"Lastly, one can come with as many containers as one wishes since they will fetch more clean water without much struggle, so it's easier to even know the exact time you want to use to fetch a certain number of containers. Before this was not the case."
7-year-old Sarah Edel was also there and offered a different perspective on the spring's impact on her life as a young child in the village.
"Since the project was completed last year, we no longer get sick because of the waterborne diseases like typhoid that were rampant. Our water is very clean, we are happy," she said.
"Children used to fall inside the water source before it was implemented, but for the last one year, those kinds of cases stopped. You can walk or run to the spring and quickly get water. This makes our parents so happy because they can rest as we help them get water."
See The Water Project in Christine Aswani Anjeyo's Community »