September, 2019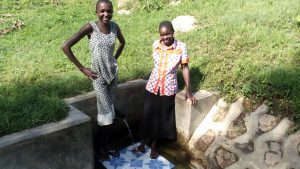 The lives of the people in Ejinja who use Anekha Spring have changed greatly in different ways since the spring's protection last year. When you look at hygiene, sanitation, and the way of life for these members, you will notice improvements in all of these categories. Just as the saying goes, seeing is believing, and we saw so much joy and gratitude expressed in the words and on the faces of those we spoke with.
Initially, Ejinja community members had an unprotected water point which was so bushy and impossible to maintenance that some people resorted fetching water from a hand-dug well runs dry. Some homes did not have sanitation facilities either. But, since last year, lives have been transformed as a result of the protected spring and training on various sanitation and hygiene topics.
The community members here are very happy and enjoying clean, safe water. The reception and the responses given during the interview attest to it. The group that uses Anekha Spring is well-organized and eloquent in articulating the empowerment they have gained in the last year alone. They are ready to correct any areas for improvement and are very cooperative in maintaining their spring.
"First, [I] am very grateful and I would like to sincerely register my deep appreciation to all the donors and everyone who in one way or another participated in ensuring that we have clean and safe water at all times and seasons," said Jemmimah Chimoli, Treasurer of the water committee.
"The biggest changes that have occurred are reduced frequent hospital visits, which we used to have because most of our children had stomach issues. While at the hospital, we were told it was poor hygiene and dirty water which was mainly the [cause]."
"After the spring has been protected, our children are attending school full-time, we have peace in our community for no struggles over water, we have oneness. Since the training happened, we maintained a relationship with one another and the group is active. People have time to work on their farms very early since they were taught on economic empowerment which will help our income."
Terry M'mbone, a 13-year-old who lives in Ejinja with her family, depends on Anekha Spring to meet her daily water needs. Terry shared how the protected spring has changed more than just her access to clean water.
"Personally, life has changed academically because I have enough time to study while at home. From school, I normally help my grandmother fetch water from the spring and cook. All these have been made easy because the spring is discharging a lot of water [so] I take few seconds to fill my jerrican thus [I] go home fast and go do my studies."
"Having enough clean water has also helped me clean my uniforms at least thrice a week and this made me be chosen [as] the cleanest girl [in] school. I was awarded and this made me proud."
"Initially, we used to get water from a well which was hard and could bring us flu. This made me get sickly because of this, but I say [I] am safe now for [at] this spring since protection I have never had [an] issue . I therefore thank all the people who helped us get this safe clean water."
See The Water Project in Jemmimah Chimoli's Community »