July, 2019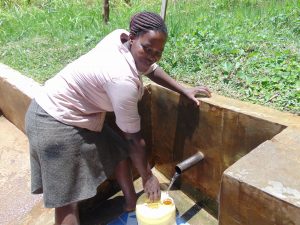 A little over a year ago marked a turning point for Elukuto Community when Isa Spring was protected and sanitation and hygiene training held in the village. On a recent field visit, we were pleased to see the continued, positive impacts of these projects in Elukuto.
First, we heard how community members often boast of their good water source to their neighbors who still have unprotected springs. This was even confirmed by members from neighboring communities who stopped us to ask about the possibility of their unprotected springs being protected (and rest assured, we're looking into it!).
We also saw that more homes had constructed their own latrines and dishracks since our last visit, evidence that the reasoning behind their construction and use is supported and spread by the community members.
Sabina Nawire, a caretaker in Elukuto, shared with us the many changes Isa Spring's protection has brought in her community.
"The protection of this spring has boosted our agriculture since we can water our crops using [the spring] water because [there is] plenty. Chances of diseases like typhoid and malaria have gone down, [and] we are able to save on time because earlier on we used to spend so much time fetching water when the spring was not protected," Sabina said.
14-year-old Karim Tohola shared his perspective with us as well, detailing how the protection of Isa Spring has brought more than just water to his community, but peace.
"The protection of the spring has brought a clean environment. The place looked so bushy before the protection. Many community members can [now] access water unlike before when others would look for alternative sources due to the queuing at the unprotected spring."
"We have also seen peace because we had land boundary issues before the spring was protected. Some [people] would complain about their crops being stepped on by those coming to fetch water. When the spring was protected and the community trained, they saw the positive side of the whole project and embraced unity."
Perhaps of all the changes Elukuto has seen over the last year, few are as powerful as one of Sabina's observations.
"Survival chances of community members has increased since water is life."
See The Water Project in Sabina Nawire's Community »