October, 2019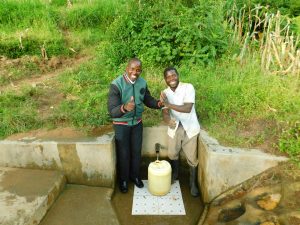 Field Officer Jonathan Mutai recently visited Obati Spring in Elutali to check up on the spring and interview community members about the project's impact in its first year since completion. Jonathan shared the following reflection from his visit:
"The day [I first] visited this community is like yesterday for me in what I saw. Then, I had to take time trying to remove green algae [in the water] but [this] was in vain. Miheso was the one who took me to [the] spring side. I asked him several times if indeed they had been drawing water from that water source and he responded yes. I almost asked him why, but my question would have ended being [a] rhetorical one. I [consoled[ myself [by] saying sooner [rather] than later, all will be well."
"And indeed, things now are in order…Water drawn at the spring is safe and clean not only for drinking but also for general chores. Initially, the water point was full of green algae and the infestation of frogs could make it worse. Also, drawing water was so hectic and time-consuming because one had to carry a smaller container for filling the bigger one and a sieve for removing green algae."
"But, [the] construction of the spring has curbed all those challenges. Now, water is drawn easily at one's convenience…unlike before where only water collected early in the morning was considered safe for drinking."
"The hygiene and sanitation in the area have also improved. This is evidenced by things like clotheslines, dishracks, and improvised handwashing stations which are easily spotted in most of the homesteads…Their environment is good. Stepping [into] this community you are welcomed by [a] greener environment of different plants. Their homesteads are clean unlike before…These are some of [the] impacts of [the] training conducted in the area while [the] spring was been implemented."
Horren Miheso, whom Jonathan mentions he met on his first visit to Obati Spring, now serves as the vice-chair of the water committee in Elutali. Horren was glad to meet Jonatan back at the protected spring a year since its completion to tell Jonathan of the impact the project has had on his and his neighbors' lives.
"We are so happy because the challenges of waterborne and water-related diseases have reduced drastically since construction of this spring. Also, drawing of water has been made easy," Horren said.
"For one to draw water, one only needs to place [a] container under the discharge pipe and within no time the container is full. Besides that, sanitation and hygiene in the area were so poor, but after the training you conducted here, [the ]majority of the community members have tried to at least have those basic things like dishracks and clotheslines."
9-year-old Ivine Muchema was also at the spring and shared her perspective of the project as a young girl in her village.
"I am very happy and thankful for considering our spring for protection. The spring for me, I had hated [it but now I] love it only because of implementation and the safe water we do access now. Algae was a problem to me and frogs could scare me most. But after protection, things have changed. I do enjoy coming to fetch water at any time I feel without any worry."
See The Water Project in Horren Miheso's Community »