October, 2019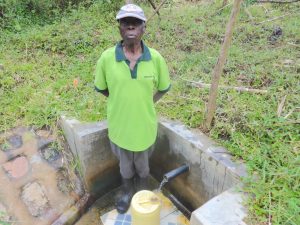 Field Officer Rose Serete recently visited Chibusia Spring in Ematetie to check up on the spring and interview community members about the project's impact in its first year since construction. Rose shared the following reflection on her visit:
"The life of these beneficiaries has improved greatly. They can easily access water in the spring because the staircases were added during construction, compared to the past year when they could slide while going to fetch water. These community members are enjoying clean and safe water for drinking, [rather] than the past year when the spring was open and water could easily get contaminated. Initially, they use to spend a lot of money on medication [to treat waterborne diseases] which could have been used [for] constructive activities.
These community members are happy with the clean water and they continue to pass their gratitude to the donors for the project. The latrines are kept clean since sanitation platforms have made cleaning and maintenance a lot easier. They are doing well on income-generating activities which have transformed their lives greatly."
John Weku is a respected elder in Ematetie, and shared his thoughts with Rose on the WaSH projects and training conducted last year.
"Our compounds are kept clean because we have enough water for cleaning activities. Every home has a dishrack and handwashing facility; these are the results of your training and we are so glad. We are free from waterborne diseases [and this] has reduced our expenditure on medication. We have started income-generating activities like farming and small scale businesses."
11-year-old Goddard Juma Weku met John and Rose at the spring and reflected on how as a boy, the spring protection has changed how he is able to access clean water.
"I now take a shorter time when collecting water from the spring unlike before when we used to scoop water into the jerrycan which was time-consuming. I can go to the spring alone [rather] than other years when I used to accompany my mum to the spring. This was because the surrounding [area] of the spring was so bushy and [I] feared…bad animals around the spring."
With confidence in his safety and ability to fetch water on his own, Goddard's mother gets more time for other activities instead of having to accompany him at the spring and Goddard can fetch water without restriction while also having more time to play with friends and do his schoolwork.
See The Water Project in John Weku's Community »