September, 2019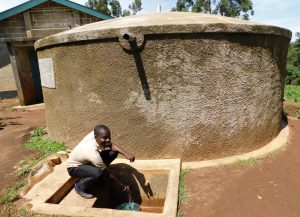 The lives of many students at Erusui Secondary School have really changed over the last year since we installed their WaSH projects. Students now have water right inside their school compound, and no longer have to leave school to find it. Secondly, cleanliness has visibly improved and students are using water for domestic purposes such as cooking, bathing, and cleaning their classrooms.
From our observations during a recent visit there, Erusui Secondary School is quite grateful for the rain tank and sanitation facilities. Much has been achieved academically by the students who now have more time to focus on studying and are able to stay in class, instead of going to fetch water. Further, the cost of buying water has been cut off thanks to the rain tank, helping the school put more money toward other development projects and investments.
"The school hygiene standards have greatly improved in that most students no longer complain about waterborne diseases, which were the major challenge in school," said teacher Mrs. Gloria Tsindoria.
"This [change] has created time for us to study without disturbance and [has led to] improvement in [the] mean school grade."
Calvar Alionya a 19-year-old student at the school echoed Mrs. Tsindoria's thoughts.
"We no longer go outside the school looking for water and this has given us humble time…to concentrate on our studies. It has also helped us improve our hygiene standards in terms of individual and environmental cleanliness."
See The Water Project in Calvar Alionya's Community »