October, 2019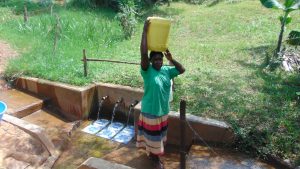 Field Officer Karen Maruti recently visited Shatsala Spring in Irumbi to check up on the spring and interview community members about the project's impact in its first year since completion. Allan shared the following reflection from her visit:
"The community members in this community are the happiest people since the protection of their spring. Shatsala is one of a few very high yielding springs that discharge water at 20 seconds per 20-liter container. The protection of this spring has saved the community members from the long queues that were experienced in the past waiting for water."
"The homes, on the other hand, looked well-kept and neat. A number of traditional latrines were also seen showing that the concept of sanitation platform replication had sunk home. These changes can only be attributed to the spring protection and hygiene training."
Joyce Vihenda is a member of the water committee in Irumbi and spent time with Field Officer Karen at the spring during her visit. Joyce shared the multifaceted impacts the spring protection has brought to her community.
"We are grateful that [even] though this spring serves a huge population of over 40 households, before protection there used to [be] a lot of congestion at the spring but now it's able to serve 3 people at a go. This has reduced congestion. We are thus no longer wasting time at the spring as the discharge is good and very little time is spent in fetching the water…I am now able to go and work on my farm full-time without fear of seeking for water. The water is also clean and this has reduced a lot of waterborne diseases, especially amongst our children."
16-year-old Ian Keya was also at the spring with Karen and Joyce. Ian reflected on what it means to him to now have clean, safe drinking water at home as a young person and student in his community with big dreams for his future.
"For me, I am thankful to this organization for protecting the spring for us. We have safe and clean drinking water. I used to suffer from stomachaches every day, but now it is a thing of the past. Thanks to [your team] for considering my community."
"I used to get to school late each day as a result of searching for water each morning. Now I no longer waste time and always reach…school on time. I am positive that I will perform better in the final Kenya Certificate of Secondary Education examinations and achieve my dream of studying medicine…I would say that there have been minimal challenges since the spring was protected and we are very grateful for the support."
See The Water Project in Joyce Vihenda's Community »