July, 2019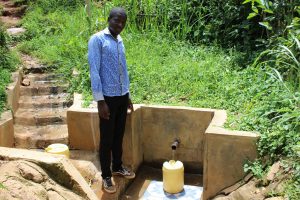 Life for Itukhula community members who use Lipala Spring has improved over the last year, evidenced most significantly by the decrease in the number of waterborne diseases among villagers. Lipala Spring has created job opportunities through the use of its water, and community members are practicing good hygiene by being very careful to wash their hands at very critical points.
These critical points, such as after using the latrine, before and after eating, are times when villagers would otherwise have a highly elevated chance of getting sick from the bacteria on their own hands. When you enter community members' compounds, they are clean and tidy.
Chair of Lipala Spring's water user committee, Jane Amaitsa has been pleased to see these changes take place in her village over the last year.
"Since the project last year, the community members have been accessing clean and safe water for drinking compared to previous times before it was protected. The community members are using the same water [for work] and [in turn are] supporting their families to pay fees, buy food, and clothing."
Many families are also now able to send their children to school thanks to the income their parents are earning from their new jobs. We heard how this is changing their lives for the better.
Kevin Amiani shared with us how his community's health has changed drastically since the protection of the spring.
"Since the project was completed in our community, my life has changed health-wise," he said.
"Most of us were affected by waterborne diseases and our parents spent a lot of money on treatment. Typhoid was worse [then], but after the protection of the spring, this has reduced and now we are a happy community enjoying clean water for drinking. Thank you for your support!"
See The Water Project in Kevin Amiani's Community »