July, 2019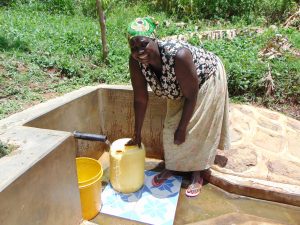 Ivulugulu community members have now been accessing clean and safe water since the protection of Ishangwela Spring a little over a year ago. On one of our recent, routine field visits, we learned how cases of water-related diseases have decreased, especially among children. This, in turn, has improved the economic development of Ivulugulu since more of adults' time is spent on more constructive work instead of on taking care of sick children.
The community seems to have taken all of the training topics seriously, as they have put in practice all that they were taught. The hygiene and sanitation trainings in particular had a positive impact as evidenced by the clean and well-maintained spring. Community members have also installed tippy taps near their latrines in order to promote proper handwashing at a highly critical point.
Mrs. Dora Mukabi, a caretaker in Ivulugulu, shared with us how the protection of Ishangwela Spring has had a ripple effect of impact across her community, and beyond it.
"I used to take [a] long [time] to get water from the unprotected spring, but now it is faster and easier. During the training, we learned how to take good care of ourselves and [the] environment. and since then we have put everything into practice that we learned."
"Consequently, the community members are strong and energetic as they hardly get sick. We have also taken upon ourselves to educate people from other communities, because we were also trained for free.
7-year-old Lewi Anjawa had something to say as well when asked how this project has changed his life.
"I enjoy drinking water from our protected spring because it is clean and tasty. [This is] unlike before, when I could go for days without taking water because it was dirty."
See The Water Project in Dora Mukabi's Community »