November, 2019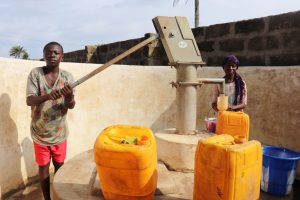 A year after our intervention, the water facility is kept clean always and also the community people are working very hard to keep the environment healthy and clean. The people we spoke with during a recent visit shared how the well has changed their lives.
"The changes are clear and evident since the project was completed in this community," said Hawanatu Sesay.
"We no longer go to the stream to fetch or launder our clothes because we now have clean, pure and available water at our disposal. My community now owns a water well and I am so happy about that."
We are thankful for the work of the water user committee members, especially to the committee chair who stood his ground to make sure the good hygiene habits that were taught are put into practice. The community is gradually improving compared to how it used to be. Presently, the environment here is clean and the handwashing stations are still working.
This intervention and the willingness of the people is paying off.
"Before now I used to be a perpetual latecomer in school and what was responsible for that is the distance to the stream to fetch water. Also, a lot of my valuable study time was lost in the process of finding water," said Salamatu A. Kamara, a 14-year-old student we met at the well.
"That now is a thing of the past. No more late coming and more study time have been regained thanks to this well."
See The Water Project in Salamatu A. Kamara's Community »