November, 2019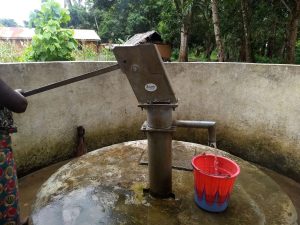 The lives of the people using the water point at Kitonki Community have improved greatly in the past year. They suffered for safe drinking water for a very long time and this led them to many illnesses like diarrhea, dysentery, and typhoid. These problems are relegated to the past thanks to the well rehabilitation.
For Ma. Fudia Bangura, the time saved fetching water is now spent tending to her garden.
"When the pump was not functioning effectively, we were all going to the swamp and water points with our children. Since the intervention, we are no longer going to the swamp to fetch water," she said.
"In fact, the water holes I created are no longer functioning because nobody uses them! Now we have clear water to drink and cook at all times and use the swamp for gardening instead of drinking."
Things are also getting better here due to the implementation of the hygiene lessons learned during the accompanying hygiene and sanitation training.
"We have the water at our doorstep and I feel good," said 17-year-old Mohamed Kanu.
See The Water Project in Mohamed Kanu's Community »