October, 2019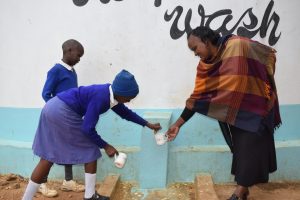 Kyaani Primary School is marveling at the water supply attained through their rain tank over the past year. The students are very excited because there is plenty of clean water for drinking and they are no longer expected to carry jerry cans of water to school every morning.
"We are excited about the water tank in the school. We get clean drinking water in school and we don't get tired of carrying water to school every day like we used to," shared Caroline Wambua, an 11-year-old student at the school.
"These days, I always arrive at school early and when I get home I have time to do my homework. The water is fresh and sweet and we no longer get ringworms. I concentrate more in class and I love coming to school."
The school environment is cleaner and more organized.
General cleanliness in the school has improved because the classrooms and offices are washed frequently and latrines are being sprinkled with ash which reduces the odor. Students' hygiene and sanitation have improved as a result of the handwashing facilities strategically positioned near the boys', girls', and teachers' latrines. Cleanliness, hygiene, and sanitation have improved because the students have easy access to water within the school compound.
"The water storage tank has played a very significant role in providing a conducive environment for learning," said Deputy Head Teacher Sarah Kimithi.
"Provision of clean drinking water has improved the health of the students, reducing the cases of stomachaches, diarrhea, and typhoid. The water has been available throughout the year and we are very privileged to have the water tank in the school."
The entire school community is very excited and jovial about the presence of the water tank in the school, reported our teams after this most recent visit.
See The Water Project in Caroline Wambua's Community »