October, 2019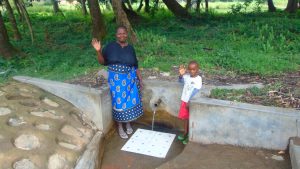 Before the protection of Fedha Mukhwana Spring in Lunyi, there were very long queues experienced at the spring. These lines got even worse during the dry season.
Today, all those women who used to wait for water are no longer wasting time at the spring.
Instead, they undertake other economic activities like selling vegetables and working on their farms thanks to the improved yield since the spring's protection last year.
Field Officer Karen Maruti recently went to Lunyi to check up on Fedha Mukhwana Spring and interview community members about the project's impact on their lives in its first year since completion. Mama Judith Nyongesa is a water committee member for the spring and a respected leader within her community.
"In the past, we suffered a lot due to lack of safe water and a lot of time was wasted as we had long…queues here awaiting water. During the dry season, it was worse as most water sources dried up and this left us with the only alternative of an open stream which is not safe for drinking. We are happy we have a reliable source – even in the past drought earlier this year, we never lacked water," Judith said.
As one of the driest seasons on record in Kenya, this spring's consistency proved highly valuable to the community here.
Cherono Rutoh is a 19-year-old woman who has found benefits in the spring's protection from the personal to the professional.
"For me, I work as a house [keeper] at the Member of County Assembly's (MCA) homestead. My greatest job is ensuring that the clothes of the MCA are kept clean. It was such a challenge in the past as the water source was contaminated and often dirty," she said.
"Many a time, I feared washing white clothes as they looked like they had faded. This resulted in being scolded often by my bosses. But now I am happy I have clean water for doing my laundry and [I] am proud of my job".
See The Water Project in Judith Nyongesa's Community »