October, 2019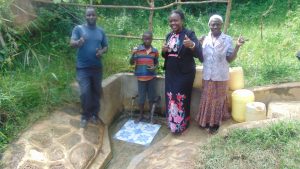 There have been many great improvements in Luvambo since the protection of Tindi Spring last year.
In the past, before spring protection there were long ques experienced at the spring waiting for water. But after protection, little time is spent at the spring.
On a recent visit to hear how this project has impacted Luvambo community members in its first year since completion, our team saw the community members working on their farms and attending to the young ones. This was unlike some of our first visits to this community before the spring protection; in the past, people here spent hours and hours at the spring waiting for water.
The homes we visited and saw from a distance also seemed neater and more organized, a clear sign that the people of Luvambo have adopted the community health and hygiene practices we taught during their community training alongside the completion of their spring.
Water handling has also improved as exemplified by Mama Joyce, who came to the spring and started washing her fetching container before accessing water while we were there. We can attribute all of these changes to the WaSH project implementation in the past year within this community.
The water and management committee for this spring is very strong and active. We have encouraged them to strengthen this unity by registering as an official Self-Help Group with the Ministry of Social Services and to start an income generation project for funds collection and sustainability of the project. We will continue to enhance our regular monitoring visits and advise the community accordingly.
"I am so happy that our spring was protected. We no longer waste time at the spring and the water is very clean. Thank you for your support," said a smiling Mama Joyce Mutachi, a member of the spring's water committee.
13-year-old Matayo Shivonje also reflected on how the spring protection has impacted his life in the last year as a young person who along with his family, depends on Tindi Spring for their daily water needs.
"I [once] dreaded each morning whenever I woke up as I knew I had to go to the spring and get water before going back to school. Most times I would find a long queue and thus [I] always got to school late. I am so happy now we have water and I am able to get to school on time," Matayo said.
"Since the spring protection life for me has been sweet with minimal problems."
See The Water Project in Matayo Shivonje's Community »