September, 2019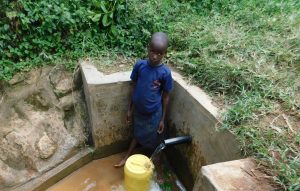 Ever since the protection of Bebei Spring in Maganyi Community last year, community members have been accessing water from a safer source, which discharges sufficient water for them to use in their household chores such as cooking, washing, irrigating their crops, watering their livestock, and for drinking. Their unprotected spring used to be a big challenge to them, but now people are happy fetching water from it after it was protected.
Ever since the project was done, community members have been appreciating it in every aspect, including putting into practice what they learned during the sanitation and hygiene training. The area looks green due to various crops grown in the village including food crops, which help to guarantee a continuous supply of fresh produce from the farms for subsistence as well as commercial use. These can be grown using the water from Bebei Spring to protect them, now that it is not so hard to fetch it and it is in plenty.
"Our members are now united like never before after the project was done in our village," said Tabitha Aswani, the Community Health Volunteer in Maganyi.
"People share whatever they have, regardless of family status, which has really made every community member feel their importance in society."
Glorian Chelagat, an 8-year-old girl in Maganyi who along with her family depends on Bebei Spring for their daily water needs, was not to be left behind in sharing her thoughts on how the spring has changed her life too.
"Drinking of safe clean water has become my routine. I am healthy and very happy in my heart as I always fetch water from a well-protected spring. Sickness due to drinking dirty water in the past is now a forgotten story."
See The Water Project in Glorian Chelagat's Community »