October, 2019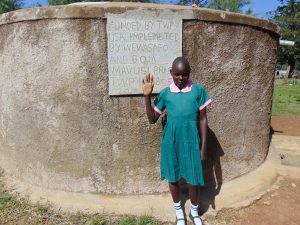 Since the construction last year of their rain tank, handwashing stations, and VIP latrines, a lot has been achieved at Mavusi Primary School. These changes have included getting clean and safe water easily within the school compound, compared to previous years when students had to leave school to go to a private home to draw water from an unprotected well.
Today, cleaning classrooms, drinking clean water, cooking, and washing clothes are all done easily due to this rain tank. The entire Mavusi community is so grateful for this water project since it has really helped them and changed their life completely.
"Since the installation of the tank, the level of hygiene has improved," said Sanitation Teacher Everline Nkumu.
"Students are now accessing clean water and even washing their classes, cooking, bathing and cleaning generally. This facility has also boosted their academic performance."
16-year-old Gertrude Luvonga reflected on how her experience as a learner has changed since the completion of her school's WaSH projects.
"The water tank has improved [the] lives of many. Personally I have gained a lot: no more wastage of time looking for water unlike before, and this has contributed to improvement in [the] school average grade," she said.
"Apart from that, students are taking clean and safe water and this has reduced the spread of waterborne diseases if compared to the past when we used to contract diseases easily."
See The Water Project in Gertrude Luvonga's Community »