September, 2019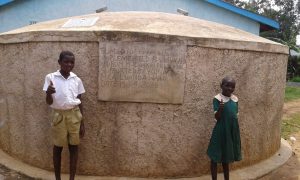 "As an institution, we appreciated the installation of the water facilities. Truly, the facilities have benefited the school in so many ways," said Mulwakhi Primary School's Deputy Principal Lucy Ateko.
We recently visited to see how the water projects we installed a little over a year ago have been serving the school.
"We now fetch water in the school's compound and this we appreciate," Lucy continued.
"Hygiene standards have greatly improved after the hygiene and sanitation training conducted in our school. As a school, we encourage our pupils to always ensure that their personal hygiene is up to standard, and that includes the environment…We do clean our tank [every term] followed by water treatment and this has allowed us [to] access clean, safe water. The toilets have helped reduce the congestion of the pupils."
Never before had Mulwakhi Primary School accessed water like this prior to the installation of their rain tank. The school now also enjoys the availability of extra latrines installed at the same time as the tank. A walk in the school compound shows a well-kept environment with well-maintained WaSH facilities in good working condition. These are all signs that the hygiene and sanitation training conducted at the school by our facilitators last year has been taken seriously.
"Personally, I witnessed the implementation process and I also contributed towards its implementation as I knew the project was ideal [and] best for me," said 12-year-old student Margret Okaya.
"Immediately after implementation, I have experienced tremendous improvements. I have been able to maintain my personal hygiene standard [since] the hygiene and sanitation training conducted in our school [even] though I was not one of the participants."
As Margret exemplifies, when we conduct our training of the student health club, we charge the pupils with spreading their knowledge to their classmates, teachers, and even family members back home who could not attend the training. This helps to multiply the effect of an otherwise small-scale training.
"I can now access clean, safe water at any given time within the school's compound. I am now able to create much time for my studies and indeed my class performance has improved," Margret proudly finished.
See The Water Project in Margret Okaya's Community »